5 Sony Alternatives For GoPro
Image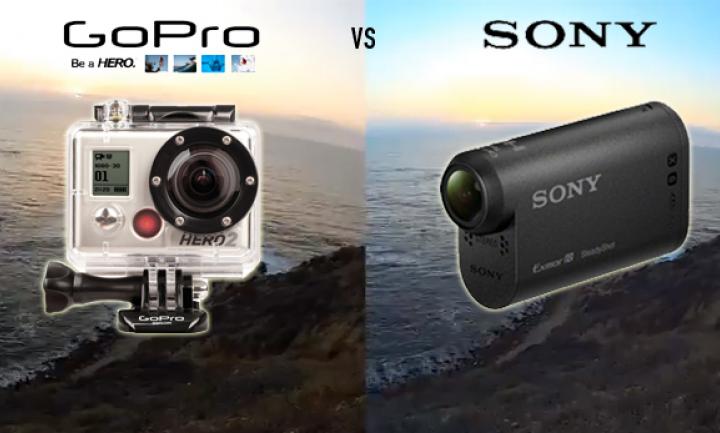 Gopro has dominated the action camera market since the beginning and there is no doubt that their cameras are the best in the market. But many companies are now rivaling their products and are striving to create a niche for themselves.
One such company is Sony who has created a few great action cameras over the years. While some may not be at par with GoPro, some of the Sony action cameras can definitely give a good competition to them.
Here are the top 4 Sony action cameras that you can consider if you want an alternative to GoPro.
1. HDR-AS100V – $299.99
The Sony HDR AS100V Action Cam has a very small and super light body that makes it easy to use while recording extreme sports. You can record amazing videos in full 1080/60p HD, with professional features like recording at 50Mbps, extreme slow motion up to 240 fps, and time codes. The camera captures stills at 13.5 MP and has a 170 degrees field of view.
The action Camera also has outstanding image quality, simultaneous multi-angle shooting and improved blur reduction that ensure you get great footage. The camera also features auto exposure, white balance and a special shooting mode for underwater. The camera also has different color settings for video, like 'vivid' and 'neutral'.
Its non-bulky design is also splash proof so you only need a waterproof cover when diving underwater and not in the rain or snow. The GPS function on the camera can also add speed and location info to your video.
It does not have a cluttered body design and features a few important buttons. There is a light on the top that indicates when it is recording, a built-in GPS, and a mic jack for enhanced sound.
You can also buy an additional device by Sony for $100 called the Live View Remote, which can be worn on your wrist to control and monitor your recordings and shots.
The Sony HDR AS100V Action Cam has more megapixels than the GoPro Hero 3 and slightly more battery power. Sony also features a large range of supplementary accessories for its action cameras just like GoPro.
You can buy this here now on sale for $218.
2. HDR-AZ1VR – $349.99
The Sony HDR-AZ1VR action camera is the smallest in its range of cameras. Sony has moved the GPS function from the body of the camera and instead inserted it into an additional wrist mounted remote, managing to reduce the camera size to two-thirds of the previous models.
The Action Cam Mini is 63 grams in weight with the battery. It records 1080p HD video at 60 or 30 fps and slow motion 120 fps video at 720p. The camera is also equipped with a 170 degree ZEISS Tessar F2.8 lens, a 1/2.3-type back illuminated Exmor R CMOS sensor with 11.9 megapixels and a stereo mic. It also uses the standard Micro SD/SDHC/SDXC memory card.
While the camera is splash proof, it is equipped with a waterproof case that lets the camera be taken till a depth of 3 meters (9.8 ft).
Using the above mentioned wrist mounted remote, users can preview, play back and delete shots, as well as change settings. The remote wirelessly deliveries GPS data to the camera and can also control up to 5 Action Cam Minis at one time.
If the camera users want to "go live," they can also stream their recording to the internet with the camera's Wi-Fi functionality.
You can buy this here.
3. HDR-AS30V – $299.99
The Sony HDR-AS30V action camera has a thin, light weight and slim body and along with its side buttons and complementing mounting accessories, taking hands free and first person videos and pictures has never been easier.
The camera is ruggedized and has a housing that makes it water resistant for up to 16'. You can use this camera in extreme conditions without damaging it and its small design makes it easy to capture the best videos and pictures.
With its patented SteadyShot™ image stabilization that helps in reducing blur, the camera can record videos at 1080/60p HD. It has 6 video modes as well as 4x slow motion and features an Ultra wide 170° pro quality Carl Zeiss® Vario-Tessar® lens.
The camera also has the ability to take amazing high quality pictures at 12MP and its Exmor® R CMOS sensor with enhanced sensitivity gives you beautiful images. There is also a built in stereo mic for quality sound recording
The camera has a built in GPS that plots location and calculates telemetry. It also has Wi-Fi capabilities and one touch NFC connection for remote control and viewing your captured videos and pictures via smartphone.
This Sony action camera is compatible with Memory Stick Micro™ and Micro SD/SDHC and also has a HDMI® output for easy file transfer.
You can buy this here now on sale for $179.99.
4. HDR-AS20 – $199.99
The Sony HDR-AS20 action camera is yet another great narrow profile action camera that adds to the existing range of Sony. Its small, light and aerodynamic design allows you to take amazing stills and videos with Sony's SteadyShot electronic image stabilization system.
The camera also features a ZEISS Tessar lens with a 170-degree field of view. Its16.8 MP back-illuminated Exmor R CMOS sensor has the capability of shooting 1080/60p, 1080/30p and 720/30p footage and can also capture 11.9 Mp still shots.
While the camera does not boast 4K specs like the GoPro, the Sony HDR-AS20 Action Camera's sensor have a huge advantage with dusk and other low light shooting options. That combined with 28 mbps high bit rate recording makes the camera a great one.  
It is integrated with Wi-Fi so Android or iOS devices can control the camera. You can also control it with Sony's wearable Live-View remote, which also has a waterproof LCD.
The camera has USB, HDMI and microphone plugs, along with a memory card slot for storage and file transfers. The camera comes with a waterproof case and a few mounts but many other mounting accessories are available to be bought separately.
The action camera's battery life is among the best in its range of cameras, with 130 minutes of rolling time with Wi-Fi turned on and 150 minutes with Wi-Fi turned off.
You can buy this here now on sale for $168.
5. Sony FDR-X1000V/W 4K Action Cam - $498
The Sony FDR-X1000V/W 4K Action Cam is the newest edition by Sony and has been created to give tough competition to the GoPro Hero 4 Black in terms of specs and camera resolution quality. With this action cam you will get gorgeous footage in Professional 4K (3840 x 2160) with up to 240p HD/ 120p HD. Its ultra wide 170° pro quality f/2.8 bright ZEISS® lens and SteadyShot(TM) image stabilization are great for sports with a lot of movement.
The body is made to survive rugged terrains and environments and is splash proof. It is equipped with built-in Wi-Fi, manual controls for flexibility and stereo mic that has wind noise-reduction.
You can live stream your videos through Ustream and even edit different videos into one using its included Highlight Movie Maker software. You can even control up to 5 action cameras at the same time using your phone or the LiveView (TM) Remote that is sold separately. Its loop recording feature prevents the camera from running out of space on the memory card.
The Sony FDR-X1000V/W 4K Action Cam is available for pre order right now on Amazon and will be releasing on March 1, 2015.
While all these Sony cameras are great, if you want to compare the four models have a look at Sony's detailed comparison chart that lists all the camera's features and specifications against each other.