Amkov AMK5000S Wireless Wi-Fi
Image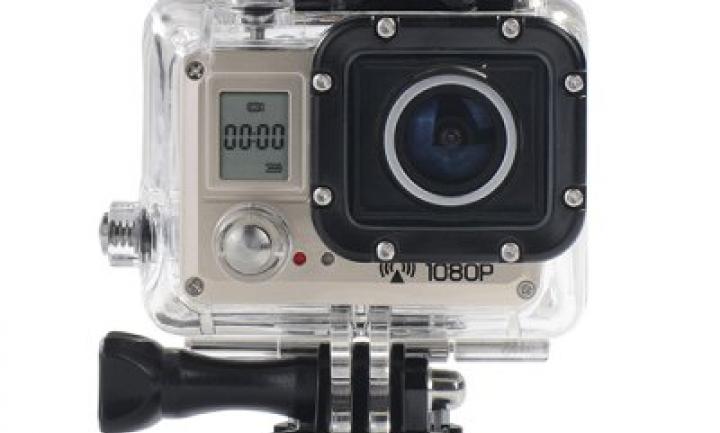 Specs
Max Video Resolution
1080P 30 fps
720P 60/30 fps
Available On
Accessories In Box

1x AMK5000 DV, 1x Waterproof case (compatible with genuine GoPro case), 1x Helmet Mount Set, 1x USB Cable
While GoPro action and sports cameras are extremely popular with sports enthusiasts, other like the Amkov AMK5000S Wireless Wi-Fi camera make very good and cheap alternatives for the GoPro camera.
The Amkov AMK5000S Wireless Wi-Fi camera is a small sized camera that has a light weight and compact body, making it easy to carry around, attach on mounts or travel with. It is also great for use for FPV on quadcopters and can deliver some amazing aerial shots. 
It is equipped with a 170°A+ HD wide angle lens and a 14 MP HD camera to take beautiful stills and pictures, with multiple resolutions available to choose from – 20 M, 18 M and 14 M. It can also record amazing videos and has various recording capabilities – 1080P (1920 x 1080 ) at 30 FPS, 720P (1280 x 720) at 60 FPS and WVGA.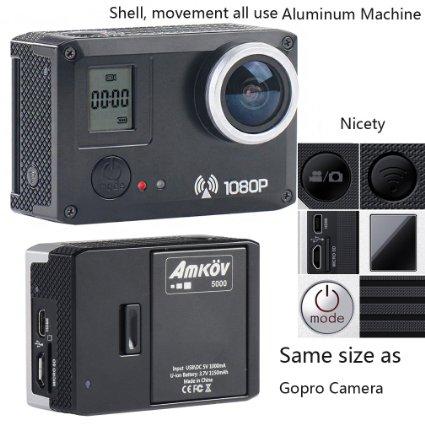 It even features an HDMI HD output and the videos are recorded in MOV format while the pictures are recorded in JPG format. It supports storage cards that have up to 32 GB maximum storage, but the card is not included with the camera so the user will have to buy their own.
The casing of the Amkov AMK5000S Wireless Wi-Fi camera has been made using sturdy materials, making this perfect for recording almost all sports. It is also water resistant till 30 meters under water so you can easily take pictures and videos without worrying about the camera getting wet and ruined.
It has a detachable battery that can be easily replaced and this will also help in prolonging its service life. Its capacity is 1150 MAH and the camera has a recording time of about 150 minutes when recording at 1080P, and a charging time of about 2 hours. It even supports smartphone connectivity with Android or iPhone using its Wi-Fi capabilities.
Overall, the Amkov AMK5000S Wireless Wi-Fi camera is great for carrying with you and capturing every moment of your adventure. It is light, easy to use and cost effective, having most of the features that new sports and action cameras have.