Best GoPro Hero Camera Black Friday Deals & Discounts 2017
Image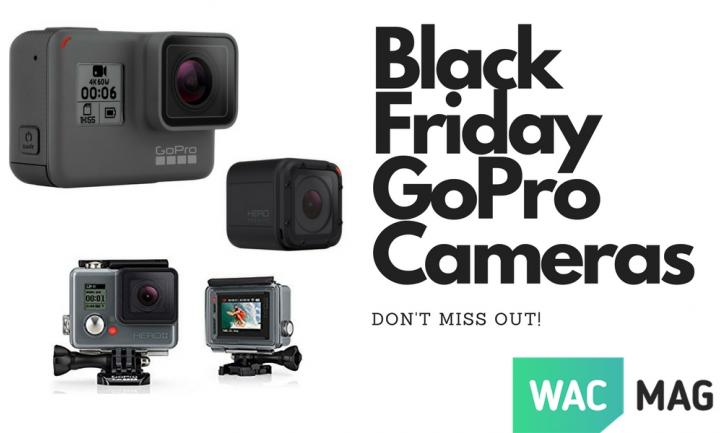 If you've been looking to gift yourself an action camera, this year's Black Friday deals, gifts, and discounts bring you even more close to realizing your dream.
Action Camera maker GoPro has gained popularity over the years, especially in the photography and cinematography space, and for great reasons.  Today, you have a chance to join the larger community of GoPro enthusiasts across the world. All you need to do is take advantage of this year's Black Friday before time runs out.
Here's what's in store for you.
GoPro Hero6 Black Edition – 50% off+ free SD card and gift card.
With just $449 you can be a proud owner of GoPro's 6th generation Hero action camera, not to mention that the deal comes complete with a free 16GB SD card, and an additional $50 eBay Gift Card.Released in 2017, this unit can shoot videos in 4k at 60fps, plus it boasts of an advanced image stabilization technology and improved dynamic range.On the other days, you will have to part with roughly $500 or more to get this action camera.
GoPro Hero 5 Black- 50% off
If you are after convenience and performance, you will never go wrong with Hero 5. Its ability to shoot 4k videos, easy-to-use display, and noticeably sleek waterproof design sets it apart. Usually, this camera will set you back $400 but thanks to Black Friday, you can save $50 and get one for only $349. The bundle includes a 16GB SD card, head strap, and dual charger.Target offers the same action camera at a discounted price of $349 but with an additional $50 Target Gift Card.
GoPro Hero5 Session Bundle – 26.47% Off
Initially, you'd spend about $300 just to lay your hands on this masterpiece but at the moment, the unit goes for only $249. The bundle includes a head strap and 16GB SD card.What sets this GoPro Action Camera apart is its compact size. You can as well control it with the help of simple voice commands and shoot video in 4k at 30fps and capture 10MP photos.Do not wait until Friday 24th to begin your Black Friday. Go ahead and place your orders now while stocks last.