DJI Winter Holiday Sale Is On
Image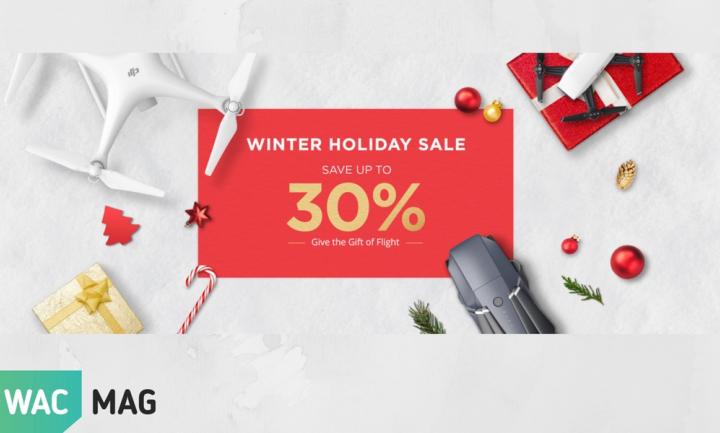 If you missed a chance to gift yourself this tremendous super drones from DJI or a list of other clever things in their store over Black Friday, all is not lost. Between now and December 31st, DJI has once again slashed down their prices, giving you a chance to save and own a drone(s), a gimbal(s) and their terrific DJI Goggles at reduced prices.
Here's what to look out for:
Mavic Pro Fly More Combo ($50 OFF)
We can all admit that quality drones with better flight times are not just expensive but also hard to come by. But not today. The Mavic Pro Fly More Combo lets you enjoy up to 27 minutes of flight time, a quieter flight, among other things, and now you can easily own it for $1149 and save $150 in the process.
What's more, you can add a Limited Mavic Pro & Accessories Combo for only $918, down from $1049, not to mention that for $19 more, you can get a PGYTECH Accessories Combo as well.
DJI Mavic Pro Alpine White ($50 OFF)
It may be small, but the Mavic Pro Alpine White is one of DJI's best performing camera drone. It comes with a new transmission system, a powerful camera, and boasts of impeccable performance. Many relish it for its compact size. Today is your chance to own it for $50 less at $1049.
DJI Spark ($100 OFF)
Not many mini-drones can match up to DJI Spark. In its compact size, it packs DJI signature technologies, an impeccable camera to capture your moment, intelligent flight control options, plus a lot more. For now, all you need is $399 to own this bird and you will have saved $100 in the process.  
Phantom 4 Pro & Phantom 4 Pro Advanced (Free Extra Intelligent Flight Battery)
Phantom 4 Pro is an all-round drone. It's capable of shooting high-quality videos, has a rigid yet light airframe able to withstand impact, boasts of longer flight times and a long list of other smart features. With just $1499, you can lay your hand on this drone and that will also entitle you to a Free Extra Intelligent Battery.
Phantom Pro Advanced too shares similar features, in addition to having advanced aerial imaging technology, forward obstacle avoidance capabilities, and a lot more. At the moment, the drone goes for $1199 and included with the purchase is a free extra intelligent flight battery.
OSMO Mobile and OSMO+ ($100 OFF & $50 OFF, Respectively)
What sets this two apart from their competitors is their unmatched ability to let you shoot cinematic footages, take sharper selfies, create impeccable motion time-lapses, track subjects, stream content, you name it. But that's not all. You can buy either now and find out more for yourself.
Osmo Mobile is available in classic Black and Silver and currently goes for $199 down from $299.
Osmo+, on the other hand,  is down to $599, from $649, and for this, you are guaranteed of, among other things, 22-77mm zoom lens, 3.5× optical and 2× digital lossless zoom; and the ability to shoot 4k Videos and take 12MP photos.
Remember, you only have until December 31st. So, place your orders now while stocks last.