Image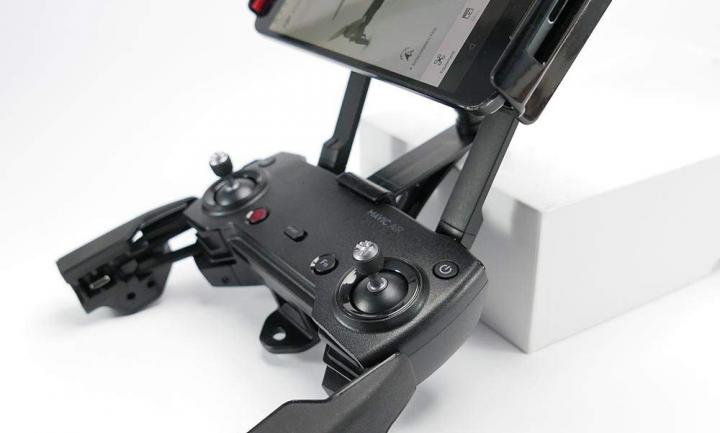 Drone Pit Stop Tablet Holder Adapter
The Drone Pit Stop Tablet Holder Adapter for DJI Mavic Transmitter is the perfect addition to your DJI Mavic Pro range of accessories. Most drone fliers use their smartphones or tablets to get an FPV experience of what their drone's camera is recording, instead of buying expensive transmitters that come with a screen in-built. 
The tablet holder is made for a variety of smartphone and tablet models that fit 11.5 cm - 18.6 cm (4-12 inch) in size. It is the perfect accessory for drone enthusiasts that helps in adding an FPV screen to the drone's transmitter. Since the DJI Mavic Air records amazing video, it will be a pleasure to watch your drone fly and see what it is recording at the same time. The mounting of the smartphone or tablet on top of the controller makes the user get an unobstructed view, making it more comfortable and easy to use for longer periods of time. 
This Drone Pit Stop product helps in attaching and mounting a tablet on to the transmitter for convenience and ease of use. The mount has been made from molded plastic that makes it strong yet lightweight, not adding weight on your transmitter. Easy to attach and detach, it features adjustable height and 360-degree rotation. Also, the ease of using your own device helps in reducing expenses as you don't need to pay extra for a transmitter with a screen on it.
Attaching it to the remote controller is super easy and takes less than a minute for quick use. Users can also adjust the height and rotate it 360 degrees for convenience.
Overall, a great accessory to have!