EKEN H6s 4k+ Camera Overview
Image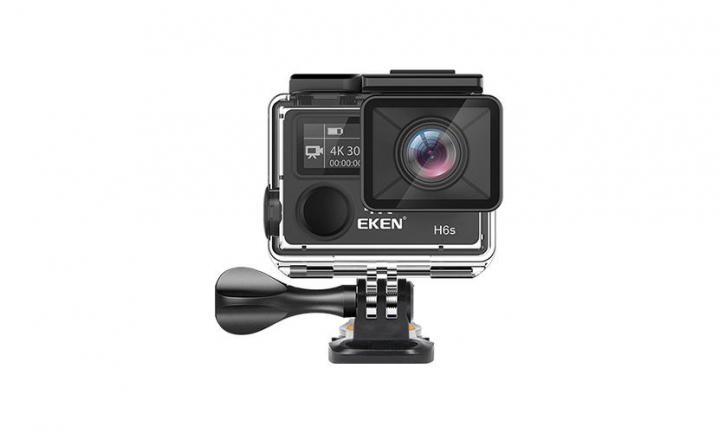 Specs
Max Video Resolution
4K 30 fps
2K 30 fps
1080P 60/30 fps
Available On
EKEN H6s 4k+ action camera is a great starting point when it comes to making action videos for the future daredevils as it introduces them to the 4k video recording supported by Ambarella A12 chipset, Panasonic sensor, and gyroscopic electronic image stabilization. Considering the plethora of useful accessories you get in the bundle, the price tag feels just about right.
If you are more experienced at action and stunt video recording, then EKEN H6s is not the action camera for you since it lacks the performance it needs to be considered for professional, even semi-professional use.
EKEN H6s 4k+ Video Recording Features
Behind the seven layers of glass are 170 degrees wide-angle, the 12-megapixel lens, which combined with Ambarella A12 chipset and Panasonic image sensor, provide high-detailed 4k+ videos (3840x2160 resolution, like the one Yi 4K and GoPro Hero 5 have) captured at 30 frames-per-second, and outputted in .MP4 format. All the recording options other than 4k at 30 fps support 3-axis gyroscope and 3-axis accelerometer electronic image stabilization, which reduce the shakiness when making the wide-angle shots.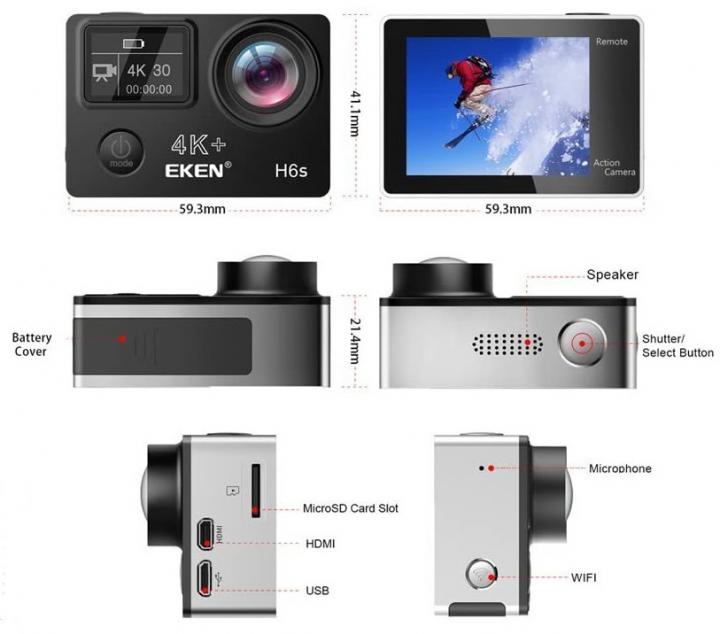 You can preview all the trickshots and stunts on 320x240 resolution 2" IPS display which unfortunately is not touch-sensitive. The camera also has a 0.95" front display status screen whose purpose, in my honest opinion, is just to drain the battery; and there is no option to turn it off. 
Speaking of, the built-in 1050mAH battery lasts for about 50 minutes of 4k recording at 30 frames-per-second, and the charging time to full is up to 3 hours.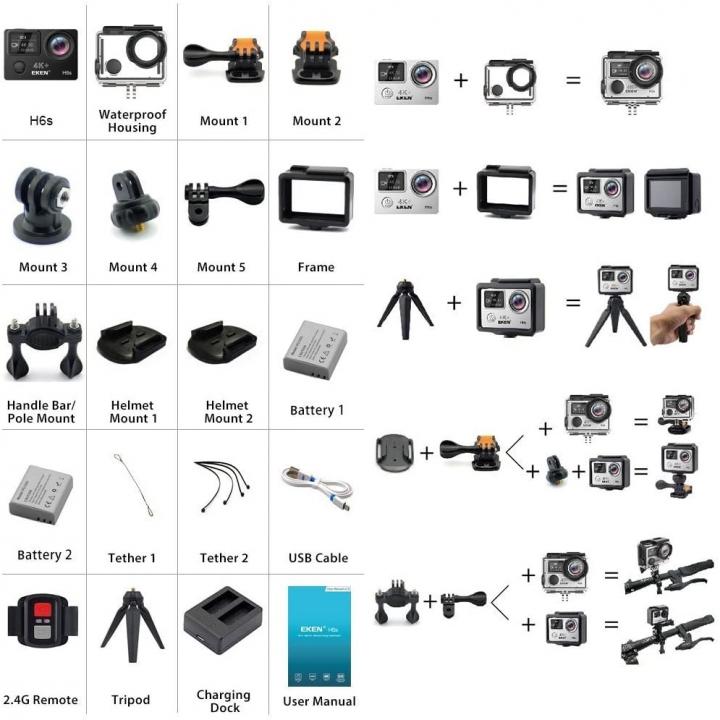 EKEN H6s 4k+ is definitely an action camera that can stand toe-to-toe against other Chinese GoPro alternatives. A reasonably priced device which offers more than enough features for beginner daredevils to play with, no matter the outdoor activity.