The GeoOrbital Wheel Makes Your Bike Electric In 60 Seconds
Image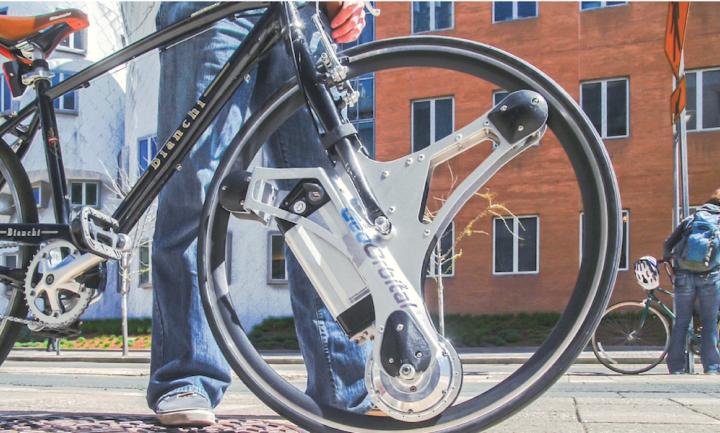 Popular transport options seem to have already made the switch to electric. This ranges from electric cars, fully electric bikes to electric trains, solar-powered planes, name it. But the bicycle has long been forgotten and hasn't really had much of this privilege.  Well, the GeoOrbital Wheel brings this thirst to an end.  
When it launched on Kickstarter, this wheel only had a funding goal of $75,000. To date, the total that's been pledged adds up to $1, 262, 222. Many come out to help bring it life. Bear in mind that the market already has other forms of electric bike modification technologies but the massive support this wheel got on Kickstarter suggests people have been yearning for this kind of innovation.
So what is it anyway?
Ever seen those fancy wheels on the TRON Motorcycles, the ones popularly known as the orbital wheels? Great, the GeoOrbital Wheel is but an evolution of them. What it needs you to do is take out your bicycle's standard front wheel and in its place fix this super-intelligent wheel and viola, you'll have turned your bicycle into an electric bike. Just like that. In under 60 seconds, this wheel will have you switch from an energy-consuming computer to one that is fully powered electrically.
Compatibility cuts across nearly every kind of bicycle, modern or conventional, and the wheels come in two different sizes (26-inch and 700c) just to ensure adults of all sizes can use it with ease. Basically, if your bike uses 700c wheels (28/29 in) or a 26-inch wheel and utilizes rim brakes, you are good to go with this wheel.
Power is provided by a 500w Brushless DC motor plus a Panasonic 36V removable Lithium-Ion battery. A single charge will last you up to 30 miles but with the assistance of pedals, you could scale this to 50 miles. With speeds reaching up to 20miles/hour in under 60 seconds, that's pretty huge for a bicycle.  And everything you need to power on this wheel is included with it, not to mention the easy installation.
Another great thing to note about this bike is its high-density foam tire which makes it flat-proof. Also included with it is a USB port built into the wheel to enable you to charge your phone or other devices that could use the same. On top of that, the bike can light up making it perfect for use in night rides.
Currently, the bike goes for $995, a discounted price, and it's for a limited time. So if you like it, don't hesitate to place your order now and save $100