Image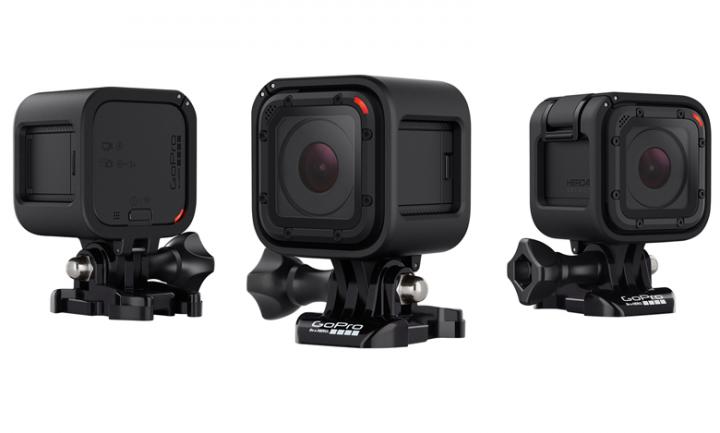 Available On
GoPro's newest addition to their range of action cameras, called the GoPro HERO4 Session is very different from their usual rectangular shaped cameras, this cube design sporting GoPro HERO4 Session is touted to be 50% smaller and 40% lighter than its predecessors. This also marks the first redesign of GoPro cameras in the past 9 years.
Design and Features
The new cube design of the Session roughly measures 1.5 inches and weighs 2.6 ounces or 74 grams. The lens looks similar to that of its predecessor, the Hero4 and while its design is small, it does a bulky feel.
The top of the camera features a multi-function Shutter button and a Power or Pairing button on the back. A small monochrome LCD provides you with details like shooting mode, menu options and battery life. A micro USB port and microSD card slot can be found on the side, and the camera can support cards up to 64GB.
The body of this camera is waterproof and doesn't really require any extra housing, so you can rest assured that the microphones wouldn't get ruined in wet conditions. But the Session is waterproof only till 33 feet, where as the previous models like GoPro Hero4 Silver are waterproof till 131 feet with housing.
It is equipped with a new mounting system that uses a quick-release latch, and its cube design provides more versatile for mounting as it has the ability to turn 180 degrees. When you buy the Session camera you will get a number of mounts. One of them easily swivels forward and backward, while another is a ball joint mount that can provide adjustments in different directions.
Setting up
Setting up the Session is quite easy and all that you require is a smartphone. You have to pair the camera with your phone via the free iOS or Android app and turn on the pairing button. Once the two are connected you can easily watch all that you record on the camera on the smartphone. You can also adjust the video and photo settings.
A drawback is that you cannot watch the feed live while the camera is actually recording so that can lead to certain issues. But the camera does features a wide-angle lens so that should make the job much easier.
Recording and Performance
The GoPro Session does not support 4K shooting but can record videos in 1080p at 60 fps, 720p at 100fps, 1440p at 30 fps and 480p at 120fps. It can take still pictures in 8 MP with modes like single, burst, and time-lapse.
For such a small camera, the Session does perform quite well. When shooting in outdoor light the video looks bright, crisp, and has accurate exposure with vibrant colors. But when the footage is viewed on a larger screen, there are some limitations.
When compared to footage from the Hero4 Silver, the video has visible compression artifacts that do not provide fine details and these problems can be seen more in indoor recording or areas with low light. Though, just like the GoPro Hero4 Silver, this camera also doesn't feature any image stabilization system and footage can turn out shaky.
When it comes to audio quality, it has a slight improvement from the previous GoPro models due to its dual-microphone design and waterproof design. So, you will be able to record even when shooting in wet conditions, and reduce wind noise.
A feature that makes the Session different from other GoPro cameras is its new QuickCapture mode. That essentially means that camera is always on and ready to start shooting with the press of a button. When you press the Shutter button, the camera will quickly power on and start capturing videos in 3 to 5 seconds. On the other hand, if you hold down the Shutter button it starts the time-lapse mode. And another press of the button will shut the camera down. This swiftness o starting provides a better chance of capturing candid and unexpected moments easily.
The battery life for the Session is claimed to be 2 hours, and that is quite accurate, while the idle battery life is also good.
Conclusion
Over all the GoPro Session is a good new addition to their line of cameras. It is different not only in the design but also features a more user-ready and user-friendly interface. The video quality is good but it falls short if you want to record videos in 4K. While the $400 price tag is quite high because it costs almost the same as the Hero 4 Silver, it does provide more versatile options for mounting and features no-fuss operations.