Image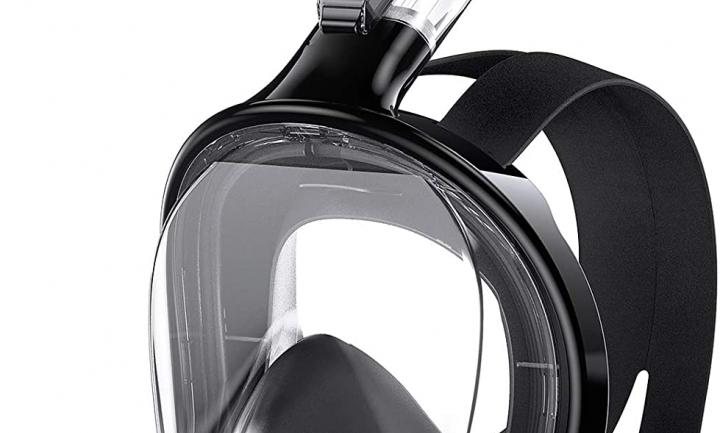 Greatever G1 Snorkel Mask
Greatever G1 snorkel mask is a full-face mask that provides comfort and clear visibility to the users. It works excellent in cold water. Furthermore, this mask's large air pocket will shrink whenever you dive deep into the sea as it causes the mask to squeeze around your face. Besides, Greatever versatility makes it a preferable choice for many snorkel lovers.
Features
Air Valve:
This mask facilitates you to breathe comfortably. Being a full-face mask, it allows you to breathe through your nose and mouth. This feature makes it different from the traditional masks. Furthermore, the valve fixed in the mask blocks the water from entering.
Anti-Fog System:
The single-piece lens of this incredible face mask is far more extensive than any other conventional masks. Its lens quality increases the peripheral vision and, as a result, gives you 180 degrees panoramic view underwater. Moreover, the mask's anti-fog system allows you to have clear visibility.
Storage & Size:
The mask is bulky when it comes to its size, but it can be folded relatively quickly in a waterproof bag. So, you can easily store and carry it while you go snorkelling. Unlike other masks that come with a removable system, this mask folds backwards, making it more unique.
Final Words
So, it's a quality item that enhances the level of your scuba diving tour. Even it offers you three types of colour that make you look cool when you dive to explore the underworld of the ocean. Besides, its GoPro Mount allows you to record automatically while you are enjoying the scenery.
 
Pros
It provides comfort.
It is incredibly versatile.
Durable for sheer quality.
Protect your face from a cold for over 2 hours.
Cons
It didn't come with an explicit warranty.
It is not suitable for deep diving.