Image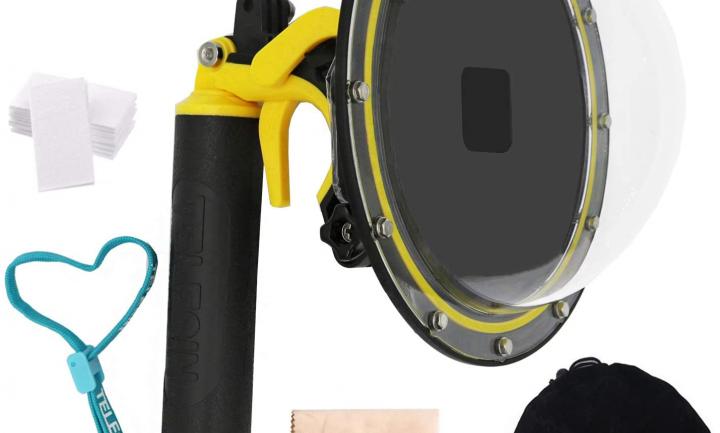 Gurmoir Telesin Dome Lens For GoPro
Gurmoir Telesin provides you with high visibility and vivid images because of its quality PC and acrylic material of dome port. Moreover, this version is modified as its hand gripping area is covered with soft rubber. It not only provides your hands with a mild feeling of touch, but you can also store stuff in it.
Features
Unique Design:
This GoPro accessory comes with a design that will fulfill all your needs. It is easy to operate as you can directly press the trigger, and the camera will be turned on to record. You will indeed like it's all in one polycarbonate body and water-resistant housing case. This fantastic feature prevents any risks of water from entering into camera.
Shooting Quality:
When you move the waterline aside from the lens, it enables you to capture the images from above and below the water at once. Its wide-angle lens allows you to take mesmerizing pictures of the beautiful sea. Even you can use a floaty monopod that works in two ways according to various shooting conditions.
Dome port:
The high-quality transparent material of the dome port helps you to have excellent visibility during your dive tour. You can enjoy a great view underwater. Besides, the dome port comes with a kit that includes a soft velvet bag for the dome, screws, hand strap, floating hand grip, spanner and cleaning cloth.
Final words
This product has undoubtedly all in one design. It has all the key features any scuba diving lover could ever want. You know this dome port is specially designed for GoPro Hero 8 black camera set in two ways to provide better quality.
 
Pros
It is easy to use.
Durable.
Built-in waterproof housing case.
Provide entrancing quality of images.
Cons
It doesn't work well with GoPro Hero 7.
It doesn't have versatility.