Insta360 One R 4k Camera Overview
Image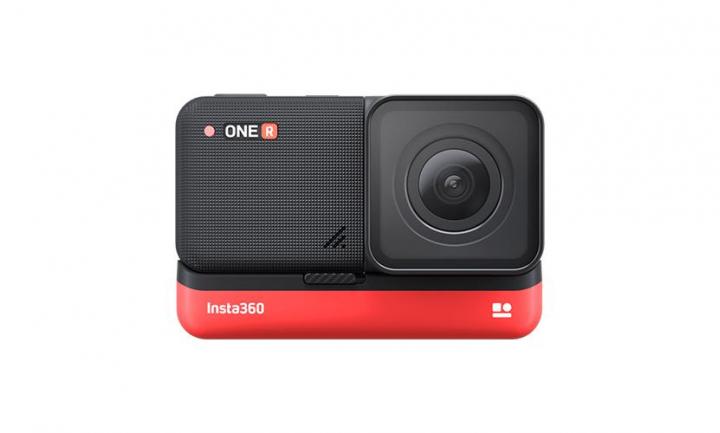 Specs
Max Video Resolution
4K 60/30 fps
2K 120/60/30 fps
Available On
What if I told you that there is an affordable action camera out there capable of making thrilling wide-angle 4k videos and capturing the perfect 12-megapixel photos no matter how experienced you are with recording action videos? That modular camera's name is Insta360 One R 4k - a camera that's constructed from three interchangeable parts and adapts to its owner's videography skill level. 
Express your creativity with multiple video recording modes, and capture smooth, action-packed moments thanks to the FlowState™ Stabilization and 4k resolution at 60 frames-per-second, even in low light! But what makes this camera so versatile? How does it compare to the other models, and most importantly - is it worth the price?
Let's find out in this Insta360 One R 4k overview!
What's the deal about Insta360 One R 4k?
Insta360 One R 4k is a sports camera developed by a relatively new player in the action camera scene, and since recently, it is a part of the Twin Edition. The standards of product design, specifications, and features are being raised as more companies are getting into the action camera market. With that said, what makes the Insta360 One R series stand out from the crowd?
Short answer: Versatility.
When speaking from the Insta360 One R 4k perspective, the camera can adapt to almost any activity, creative idea, videography skill level, and budget by allowing you to replace the 4k module with Dual Lens 360 or 1-inch module, thus unlocking greater freedom of photo and video expression. Although these items are sold separately, it is somewhat reassuring to know you do not have to purchase a brand new camera once you get familiar with Insta360 One R 4k. All you need is a compatible upgrade or a new official Insta360 bundle or accessory to keep the camera relevant when you look for an improvement.
Speaking of accessories, the original Insta360 One R 4k package contains:
1x 4K Wide Angle Mod, 
1x Core, 
1x Battery Base, and 
1x Mounting Bracket.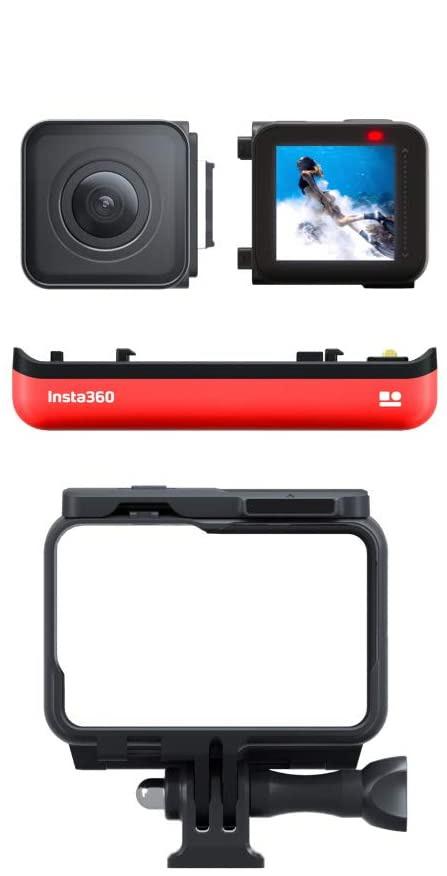 The bundle is quite basic but provides all you need to start recording cool action videos on your next adventure. As you can see, the waterproof case is not included; however, when mounted in the bracket, the camera is waterproof up to 5 meters. Great for rainy days and poolside activities, not that good for surfing.
You can play with several different photo (standard, HDR, burst, interval, Night Shot) and video mods (standard video, HDR video, timelapse mode, TimeShift mode, basic stabilization, pro FlowStat stabilization), with the latter being more impressive. Note that the FlowState stabilization is applied when the video is exported with the Insta360 app or Studio. 
Insta360 One R is powered by a 1190mAh battery capable of lasting up to 70 minutes of 4k video recording at 60 frames-per-second. It is easily charged by a type-C USB charger with an approximate charging time of 60 minutes.
The content you produce is stored on a micro SD card in .JPEG and .RAW format for photos, and .INSV and .MP4 formats for videos. The official micro SD card recommended size is 1 terabyte, UHS-I V30 speed class, and exFAT(FAT64) format. 
Is Insta360 One R 4k worth it?
Insta360 One R 4k is a well-thought-out stand alone product which does not require other Insta360 items to shine - they are only there as a way to improve and compliment the modular design of Insta360 One R. The camera's ability to adapt to your creative needs and photography and videography skill level cannot be overlooked. We are interested to see if Insta360 will expand on the camera modules, allowing for even greater versatility.