Lego's New Boost Kit Lets You Program Your Own Robot
Image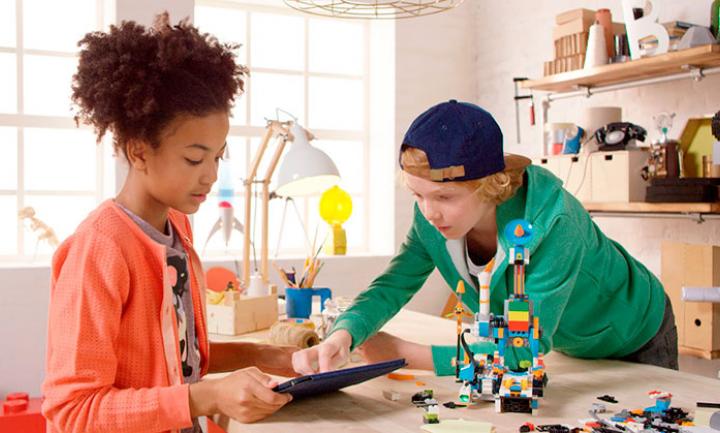 Lego, a leading manufacturer of play materials takes fun to another level this time. For them, much focus has been on learning and creative play. Most of us already are aware of Mindstorms, the company's robotic platform from which the likes Lego WeDo belong to. This year they will adding another new robotic kit called Boost.
Specifically designed for kids ( ages seven and up) looking to build robots and learn how to code, this new toolkit is constructed around Move Hub- a motorized block, comes with a tilt sensor and is powered by 6 AAA batteries. The kit was on display at CES 2017 this week.
Unlike previous Lego Kits, the Boost Kit which comes complete with an additional motor plus distance and color sensors not to mention more than 843 traditional Lego parts.
Functionality
Upon launching the app, kids can go ahead and pick from its five building projects:
Vernie the Robot- an anthropomorphic robot towering one foot high. It's the most complex of all building projects.

Frankie the cat- a mechanical cat with terrifying looks

The Guitar 4000

The Multi-Tool Rover 4 ( M.T.R.4) - an aggressive looking vehicle with the looks of a tractor

Autobuilder – a 3D machine with printer-like features that you can program to put LEGO together.
With the help of an app, the user will be introduced to a programming interface in which a set of puzzle pieces each representing a specific action can be chained on to each other then triggered either by tapping the screen or by a real-world action.  Of course there will be a set of instructions to guide you as well.
Rather than let kids create their own robots, the programming options are instead targeted at letting kids play with certain objects in defined ways.  However, there's another open-ended feature included that lets kids learn how to come up with a four-legged animal, a building or a skeleton of a vehicle.
Lego also launched a new version of WeDo robotics kit at CES 2017. It's also designed for elementary school students and aims to introduce them to programming, robotics and engineering in general. But unlike the Boost, this version is already available.
Meanwhile, if you want a perfect gift for your code-curious little kid other than the WeDo robotics kit, for just $160, you will be able to buy them the Boost kit once it becomes available half-way into the year.