Image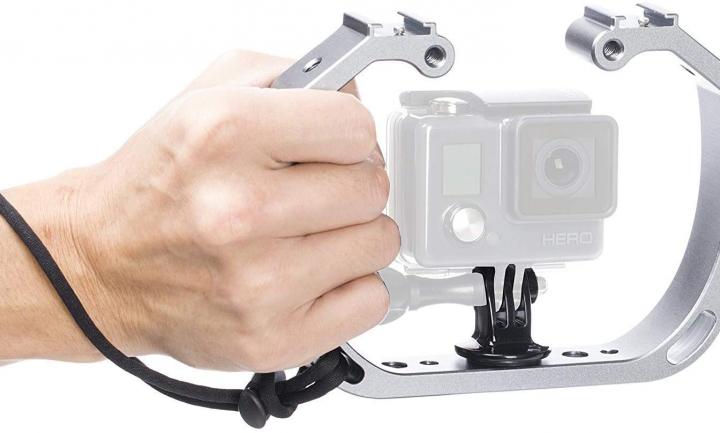 Movo GB-U70 Underwater Diving Rig For GoPro
If you are looking for something with a compact build and gives fantastic shots, then Movo GB-U70 is the best for you. It is lightweight and small in size that helps you to enjoy your adventure without getting tired. This GB-U70 is the perfect rig for below and above water recording.
Features
Two Shoe Mounts:
This diving rig has an exclusive design for action cameras. Its two cold shoe mounts with other built-in threads help you to virtual set up any other accessory. The built-in lines feature ¼, and 3/8 mounting allows you to have multiple options for attaching mics or light, etc.
Compact Design:
It is made with high-quality solid aluminum alloy that enables it to stay away from corrosion. Besides, it prevents the water from entering and damaging the images and recordings. This Movo diving rig can even withstand rough water to provide you with stable shots.
Stable Shots:
No matter if you are on dry land or underwater, this GB-U70 GoPro diving mount will provide you with a stable hold of this fantastic action camera. Its secured wrist strap helps you to take smooth and perfect pictures.
Final Words
Movo GB-U70 has a versatile design and easy mounting system that makes your diving tour more adventurous. Having a perfect accessory can make your day unforgettable. Even the salty Pacific Ocean can't affect this waterproof rig.
 
Pros
Durable.
Leakproof.
Corrosion-resistant.
Adjustable wrist strap
Cons
The size of the rig is too small.
The length of the wrist strap is short.