Image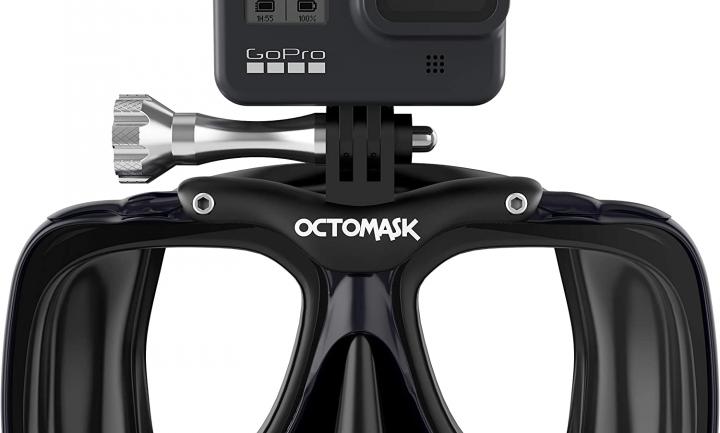 Octo Mask-Dive Mask For GoPro
Octo mask is an excellent GoPro accessory for scuba diving. Its thick and robust frame makes it a sturdy piece of equipment. You will not be disappointed when you order this mask as it has a high-quality build and soft silicone skirt. Moreover, its dual-lens provide excellent visibility.
Features
Mounting System:
You know its standard mounting system can be easily operated and once you adjust the camera, it will remain fixed on its plate. When you point the camera's direction downward, it will allow you to take impressive dive footage. It provides the footage from 1st person perspective.
Detachable LCD:
It's easy to get tired while holding a camera during your dive. This octo mask offers you a removable viewfinder or LCD system to make you feel free and comfortable. It will help you to enjoy your dive thoroughly while still recording the fantastic footage of your tour.
100% Warranty:
This incredible mask comes with a 100% guarantee to provide satisfactory functionality. It provides the most convenient ways to your GoPro camera. Besides, the aluminum thumbscrew makes it easy to attach the camera for taking immersive photos.
Final Words
This octo mask is the best choice for the ones who like to record their diving trips. Its stellar solid build with functional camera mount makes it prominent when compared to other top brands. So, you must get your hands on this GoPro accessory immediately.
 
Pros
It allows for hand-free scuba diving.
It doesn't provide discomfort to your nose.
Perfect choice for 1st person filming.
It has a robust camera lens.
Cons
It is not a 100% watertight mask.
A neoprene strap cover doesn't come with a package.