SITE123 - Website Builder For Photographers - Is it possible?
Image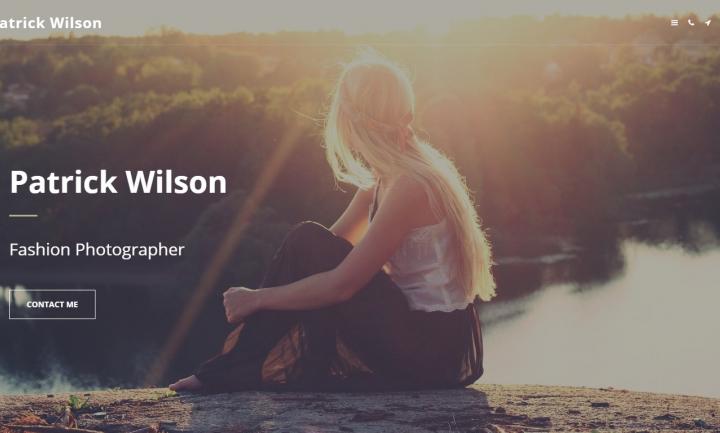 Thinking about having a website was creeping until not so long ago. We know since the very beginning of the internet that if we have a business or offer some kind of independent service such as photography, that sooner or later we would need to have a website. Even though we had that knowledge intrinsically, we may not have been fully conscious about it and most of us postponed the task of going after a website.
Some social media platforms became famous, others became obsolete and you had a profile on every one of them. However, you did not put together a website or got someone else to do it for you. Ok, we will give you a credit for you on that one… 
Why You Procrastinated
A few years ago, the most common way of getting a website was by hiring an agency or the combination of a web designer and a programmer. That way of doing things had its issues. The most problematic one was that it would take an enormous amount of time to get the website done because that depended on many people: you, the designer, the programmer and probably a photographer or someone to help you with content. 
Memos, emails, messages, attachments, files all over and lots of questions about how things should be done, placed, displayed, and so on… It gets tiring just to talk about it. Thankfully, that has become obsolete in most cases because nowadays, it's possible to put together a website without anyone else's work but yours. The way this has been possible is that there are very modern website builders out there. Some like SITE123 do not require any coding or designing skills whatsoever and allow you to create a website in a matter of minutes.
How You Can Finish That
Think about it as if it's just another social media profile you are creating. That's how you will feel as soon as you start to play around with SITE123. It's just a matter of adding your information, setting preferences and uploading your content. It doesn't sound too scary now, does it?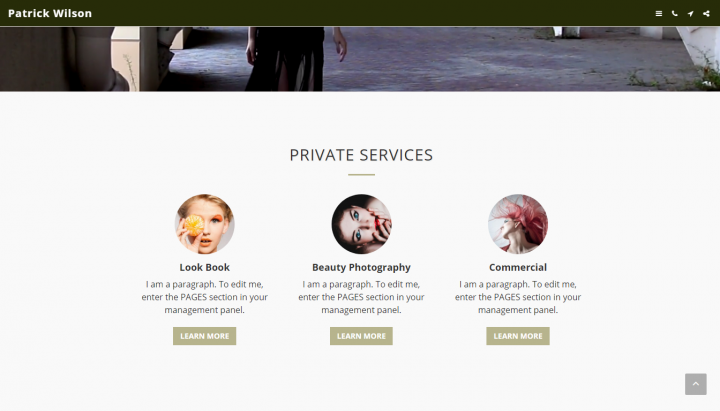 If you are in the photography business, you are already technologically inclined, so using SITE123 will not be a problem for you at all. Besides that, you probably already understand that by having a website you will have more credibility with clients and probably get even more clients as well. Day after day, the internet evolved and so did all kinds of industries in the digital aspect of business. I bet that every company that you respect has a decent website. It's time for you to have one too.
You might be still unsure if this is going to work or not and if it's really going to measure your expectations. We understand how that feels and that's exactly why we have a list of topics you should pay attention to when considering making a website. 
Let's go over some important features offered by SITE123. In detail, we will analyze how it can help you terms of design, navigation, content, marketing and more. If you are interested in taking your photography business to the next level, pay attention to the following topics.
SITE123 Free Features for Photographers
Simplicity - Good photographers understand the value of simplicity, of focusing on the essentials and removing the superfluous. SITE123 helps you prioritize the important things. With simple design and straightforward layout, you will be able to create a very refined website. 
Clear navigation - A lot of visitors leave a website because it takes too many clicks to get to what they need. You have been in that position and so have we. Let's admit it: we all hate when that happens. Fortunately, you don't have to worry about that because on SITE123 you will be able to organize your content, links and menu in order to provide clear navigation for your visitors.
Design theme and layout – On the website builder, you will be able to fully edit the design theme and layout to your taste. Color palette, fonts, styles, menu options, footer layouts, favicon, social images… They are all editable, of course, maintaining the high level of your design and layout.
A great "About" page – SITE123 offers nice layout options for your "About" page. You can place an image that represents you, your work or your business. Place it above, side by side or below the text as you wish.
Impressive photo image gallery – your website will be a total killer in terms of how your photos will be displayed. SITE123 offers many different styles that you can choose from. If you would like your images to be shown in an openly laid out gallery, you got it. If you prefer it in a carousel mode, there it is. Like it in other kinds of dynamic ways? You have it too! No matter what kind of image organization you would like for your gallery, you will find it on SITE123.
An option to add a video to your website – Besides being able to upload videos to your image galleries, you have other three possibilities to add video: on your homepage, on your main page as a promo part or on your blog. Adding your videos will help demonstrate the abilities your company has in the field, in addition to photography.
An effective Contact page – One of the most important parts of a photography website is the "Contact" page. That is the place where your existing clients and potential customers will go to send you inquires, request for quotes, invitations and other kinds of messages. It is indispensable to have it set up correctly in order to receive all the messages and display your contact information accordingly.
Blogging – If you would like to share your thoughts and ideas related to the photography industry, you have the blog option. It is very easy to add to your website, just like any other kind of page. To edit and post is just as easy: you just open the website builder as usual and write the new post on the blog module.
Using analytics – In case you have an inclination towards numbers or would like to put to use your marketing skills, you can use analytics to track how your website is doing. This allows you to know how many people visit your page, what they see, how they interact, etc. In order words, it's accessible useful information that can be turned into money.
Speed and reliability – Your website on SITE123 will never let you down in terms of speed and reliability. The server is very reliable and never goes down. When it comes to loading speed, they are experts in making high quality websites load faster than ever.
Great SEO – If you want your website to be displayed among the top results related to photography in your area, SITE123 is the place to be. The websites are already optimized for search engines and with the use of a few tools, you can get your hands dirty and improve the results even more.
Mobile-friendly (responsive) design – Your website will load beautifully in whatever device your visitors use. No matter if they are browsing from a mobile phone, tablet, computer or other kind of device. Everything will be seen just like it's supposed to be and just like you have made it.
Social networking – The websites on SITE123 are enhanced for social networking. They allow you to not only have a larger visibility online but to also influence people and make connections through social media. There are buttons strategically placed around the websites in order to facilitate interaction between users, your website and social media.
Email newsletter – You will be able to send out news about your company, services, promotions or anything else you would like to share with your followers. This is a great way to keep in touch with potential customers and existing clients and provide them more value and consequently close more deals.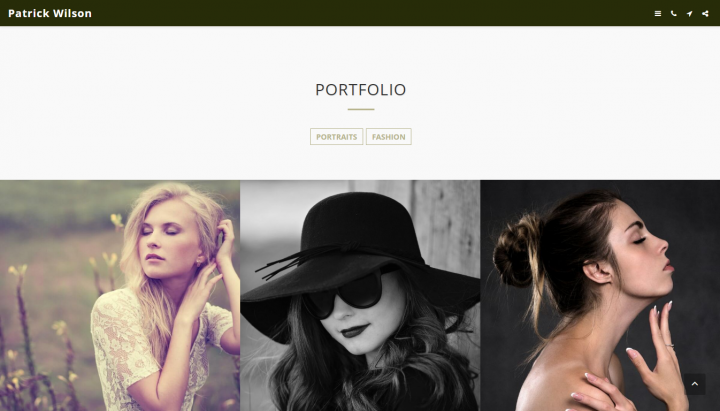 The aspects above are keys to a successful photography business. The free tools offered by SITE123 in that direction, make up for great photography websites. They were developed taking into account years of feedback from many professionals, that's why they are all in place and ready to be used. It's all on you to make the best use of them. And the coolest is: it's all free.
If you are thinking this is all too good to be true, here's the catch: to get a few features that are a bit more complex, you need to upgrade your plan. Let's see what comes in.
Upgrade to a plan that gives you more Features
Domain – A website made on SITE123 is already very professional. And if you would like to pass more credibility with a yourbusiness.com domain name, you can have it by upgrading.
SITE123 app market – In addition to the great tools offered by the website builder itself, there is the option of using the tools in the app market. There are many of them: advanced photo albums, chat, form builders and much more.
SITE123 floating tag – All free websites have advertising floating tags. With an upgrade, your website will be 100% free of them.
Conclusion
The interface and ease of use of
SITE123
places it far ahead of the competition. Light-years, one could say. It's all very simple and with a few clicks and edits, you can have a website ready. In the photography sense, it's great because of all the possibilities it offers in terms of image galleries, videos and other forms of content sharing. Put it all together (website builder + tools), mix it up and add a little seasoning (your content) and you are ready to hit it.