SJCAM M20 Action Camera Vs. EKEN H8R Action Camera
Image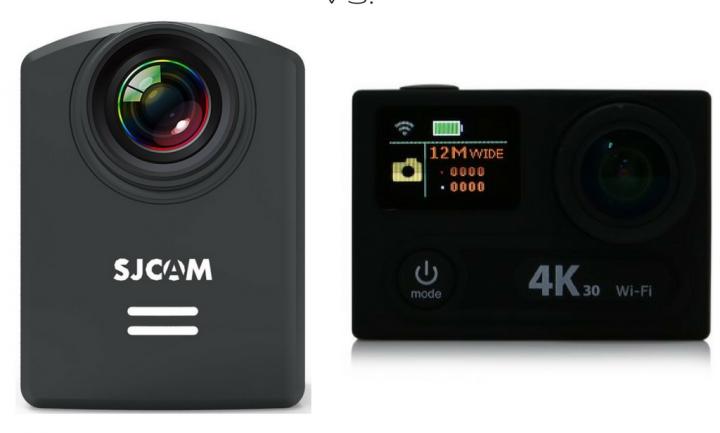 SJCAM has slowly come up as one of the leading action and adventure cameras in the market, and is often compared to GoPro due to its features and lower price options. But with the development of the camera market, there are now many more new and upcoming action camera models now worth comparing.
One such comparison is being made between the SJCAM M20 Action Camera and the EKEN H8R Action Camera, both of which are highly popular among the masses.
Find out more the major differences between the two leading cameras here.
SJCAM M20 Action Camera Vs. EKEN H8R Action Camera

Design
When it comes to design, the EKEN H8R Action Camera has the dimensions 23.35 inches, 8.43 inches, 16.18 inches and looks similar to any other rectangular action camera. It has the lens and a small screen for camera status on the front and a bigger screen at the back to view what is being recorded. It also has a waterproof housing case that keeps it protected till up to 30m.
The SJCAM M20 is much lighter, even lighter than its previous versions, and weighs just 55 grams with battery. It also features a very different and unique design and isn't a square or rectangular, setting it apart. It features the lens in the front and a screen at the back, and can also be used till 30 meters (90 feet) under water due to its accompanying waterproof case.
Features
The EKEN H8R Action Camera features a 170-degree wide-angle lens and has the ability to record in 4K ultra HD. It is powered by a Sunplus 6350 chipset and is also equipped with an IMX078 image sensor.
Different video resolutions include 4K at 30fps, 2.7K at 30fps, and 1080P at 60fps and 30fps. The camera can also take pictures in 12MP, with different resolutions like12M (4608 x 2592), 8M (3760 x 2120), and 5M (2976 x 1672).
Picture and video features include looping video, burst photograph (3 photos), time stamp (off / date / date and time), time-lapse recording (2s / 3s / 5s / 10s / 20s / 30s / 60s) and continuous lapse (on / off).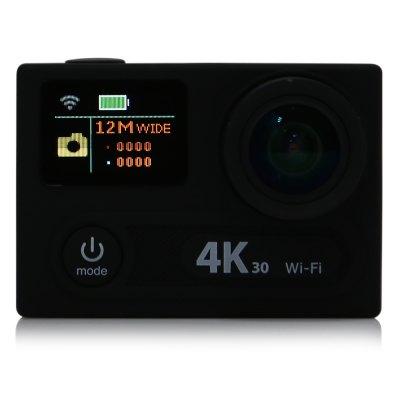 On the other hand, the SJCAM M20 Action Camera is equipped with a 16 MP Sony IMX206 Exmor sensor that can do 4K recording when the picture is interpolated. It uses a 166-degree adjustable field of view (Wide – Normal – Narrow) for provide a wider rage of pictures and videos.
To power the whole device and allow such high functionalities, the camera uses the Novatek 96660 chip, which is also used in SJCAM SJ5000X Elite.
It can take videos in 4K at 24 fps (interpolated), and is also capable of recording in 2K at 30 fps, 1080p at 60 fps and 720p at 120 fps, and the videos are recorded in either .mp4 or .mov. It can also take pictures with an image resolution of up to 16.37MP (4672 x 3500) and you can shoot RAW photos.
The distortion correction feature helps in reducing the weird fish eye effect and provides more professional vides. While, the gyro stabilization feature is great for reducing shakiness specially when recording yourself doing certain action sports.
Display
Both cameras feature an option for viewing what is being recorded on the camera. The EKEN H8R has a built-in LCD screen that is 2 inches big and can be used to also adjust the camera and recording settings easily.
The SJCAM M20 is equipped with a smaller 1.5" LCD display that provides live view and allows you to change and adjust setting.
Battery
The EKEN H8R uses a 3.7V 1050mAh li-ion battery that can be completely charged in about 2 hours and provides a battery life of around 1.5 hours, while SJCAM M20 uses a slightly smaller 900 mAh detachable battery that provides a usage time of around 80 minutes when recording at 1080p.