SJCAM SJ5000X Elite Camera Review
Image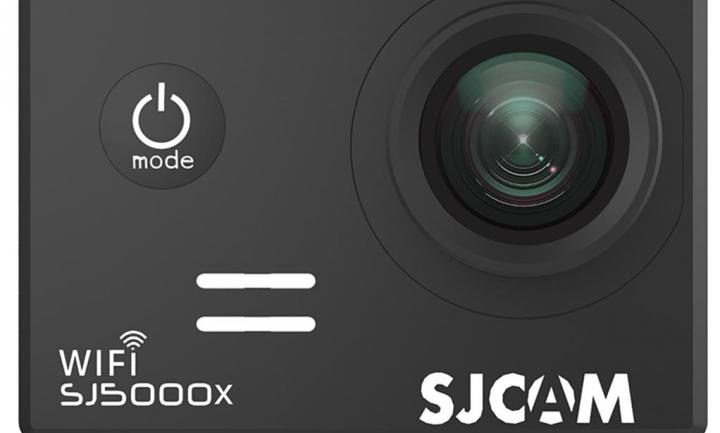 Specs
Max Video Resolution
4K 30 fps
2K 30 fps
1080P 60/30 fps
720P 120/60/30 fps
Available On
SJ5000X Elite is a great and affordable option for all daredevils and action video enthusiasts. Featuring 4K videos shot at 20 frames per second, with gyroscopic stabilization, 12-megapixel lenses, and with a low price tag, we can see why the camera is definitely a tempting deal.
For those who can't help themselves but rush to the backcountry ASAP with their new action camera, here's tl;dr:
The camera's case is made out of plastic and weighs about 75 grams;
A waterproof casing is included in the box, protecting the camera up to 30 meters deep;
Stable and fast image processing thanks to the Sony IMX078 sensor;
LCD display does not have IPS panels and isn't touch-sensitive;
Camera has fixed focus lens;
Digital (x8) zoom in and out feature, rarely seen in low-price action cameras;
Various mounts and stands are included in the box;
Built-in wi-fi;
The battery takes about 2 hours to recharge.
Produced by SJCAM, a nowadays well-known company in the action camera market, their products offer all the features casual action video enthusiasts need, at a reduced price. So, get your dusty outdoor gear from the attic, mark the first available weekend in your calendar, and let's dive deep (wink) into the modest-as-always SJ5000X Elite review. 
SJ5000X Elite - What's in the box?
The postman arrived this morning and delivered a long-awaited package, just in time for the weekend in the outdoors. In the box - SJ5000X Elite - an affordable action camera built to create top-quality videos anywhere you go without lightening your wallet. 
Naturally, most of us go berserk the moment we see a delivered package. After tearing off the tape and ripping the cardboard package, the SJ5000X Elite's lenses will stare at you through the see-through plastic like a curious BB-8 droid, awaiting its instructions.
The front of the camera's packaging box looks simple and clean, with attention-grabbing features that make the product appealing: 4K resolution camera, recording at 24 frames per second, waterproof casing (wink) up to 30 meters, gyro stabilization. We'll get to them in a moment.
The sides are reserved for Google Play and App Store QR codes, which you can use to download the companion app, as well as another QR code with a certificate seal. On the back are listed basic product specifications in English, German, and Russian. 
Inside the box you will find compartments with the following accessories:
1 x SJ5000X Action Cam; 
1 x Waterproof Housing;
1 x Bicycle Stand;
1 x Back Clip; 
1 x Housing Backdoor; 
1 x Micro USB Cable (used for charging)
1 x Switch Mount A; 
1 x Switch Mount B; 
1 x Switch Mount C;
1 x Vertical Fixed Base; 
1 x Universal 1/4″ Tripod Adapter (great for time-lapse videos)
1 x Mount Base; 
2 x Helmet Base; 
2 x Band; 
2 x 3M Adhesive Tape;
1 x Cleaning Cloth; 
1 x Multi-language Manual; 
2 x SJCAM Stickers;
1 x 900mAh Li-ion Battery (which is in the camera and it's removable).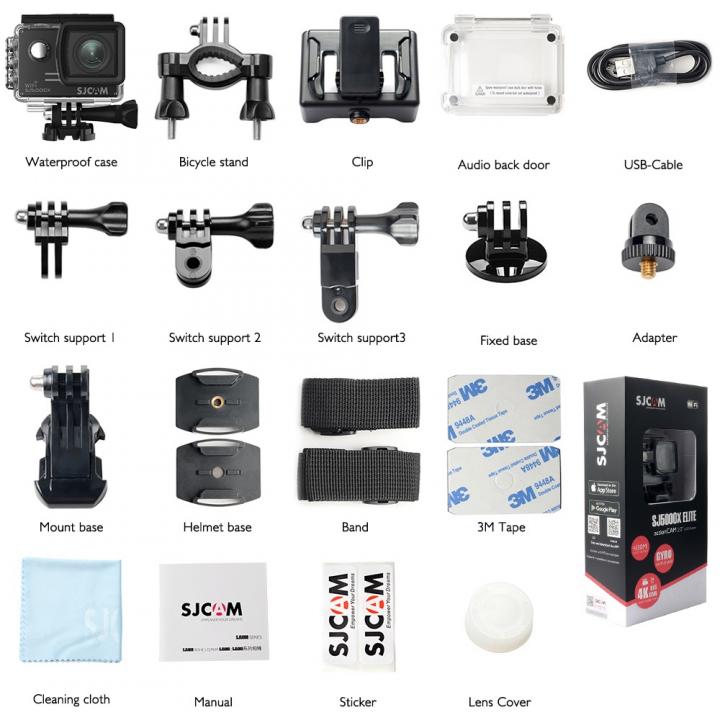 That's a nice bundle, but let's get to the good stuff.
Oh, and if something's missing, don't hesitate to contact customer support or ask for a return.
Technical and Design Features of SJ5000X Elite
Compared to the SJCAM's previous products, the SJ5000X Elite feels like a step in the right direction: the quality is significantly improved, even though the design looks dated and conventional - probably because the model is built to resemble GoPro.
The action camera's case weighs about 75 grams and is made of plastic, however, it does have a texture on its sides which is nice on touch and allows for a better grip. The buttons feel responsive, but if you place it in the waterproof case, you will have to use a bit of force to press them. 
The 2" LCD display is not touch-sensitive and does not have IPS panels so colors will show differently when the screen is at an angle. Other than that, the display is bright enough for you to be able to see all the cool footage in daylight.
Even though the selling point of SJ5000X Elite is the 4K resolution and video recording at 24 frames per second, you can still take good photographs - however, keep in mind that the action camera has fixed focus lens (opposed to autofocus). It features multiple photo shooting modes – single shot, burst shot mode (3 photos per second), timer (2s, 3s, 5s, 10s, 20s, 30s, 60s), continuous (2 seconds, 5 seconds to 10 seconds), slow motion (-2X, -4X, -8X) and photo and video time-lapse. What's also cool is the ability to smoothly zoom in and out, which other low-cost action cameras don't have.
The 12.4 Megapixel Sony IMX078 Sensor offers very stable and fast processing speed, and allows for shooting crisp photos and recording amazing 1080P videos - from SD 720X480 to Full HD 1920X1080, saved in .MOV or .MP4 format with .h264 codec. Drone and quadcopter users rejoice! Other than the 4k resolution, SJ5000X Elite has gyroscopic (Gyro) stabilization which reduces the shakiness from your shots, especially when recording in the wide-angle view. With built-in wi-fi, you can connect your camera with your phone or companion app (available on iPhone, Android, tablet and PC) and use it as a viewfinder.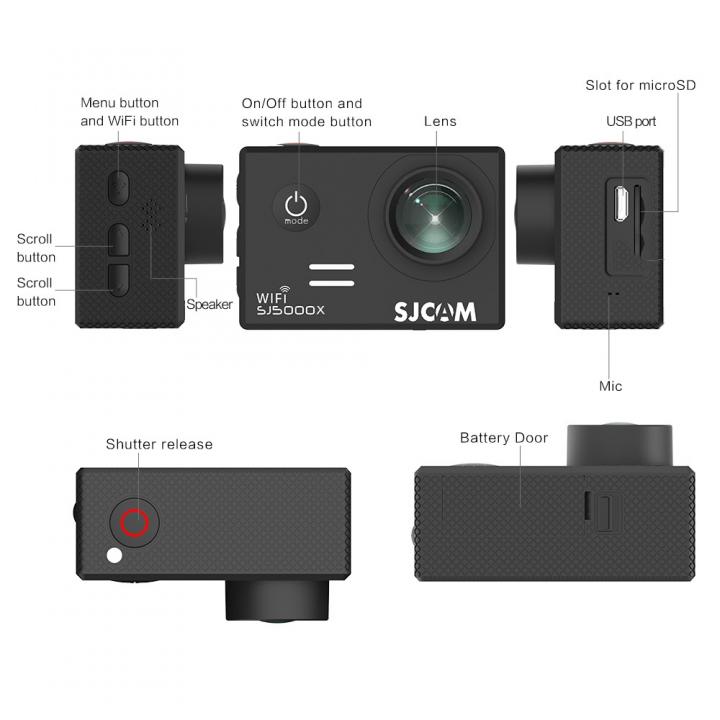 SJ5000X Elite is marketed as an affordable alternative to GoPro but the camera's rise to renown comes from the technical features and the ~$125 price on Amazon.