Super Christmas Deals For Drones From RCMOMENT
Image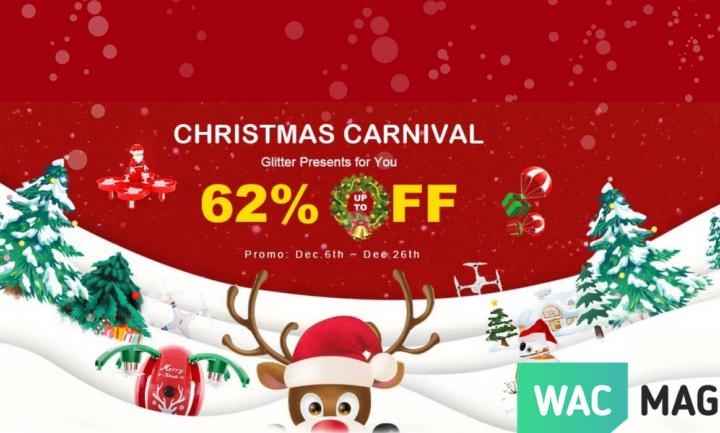 Christmas is just a week away and if you are a drone enthusiast, a business, or just another person who would love to own a drone for less, RCMOMENT currently has deals and offers to make your festive season worthwhile.
Go ahead and check them out. Remember to use the included codes when shopping so as to enjoy the offers.
1. For DJI Spark 12MP 1080P Quadcopter - Only $419.99 (code: SPARKXMAS)        
DJI Spark remains the most compact and affordable quadcopter to ever come from DJI. Everything from its build quality and camera features to flight control and performance has all been designed with meticulous precision all in an effort to ensure your aerial photo and video experiences are all incredibly awesome and that each moment with it is precious. With 33% off, you stand a chance to own this marvelous bird for $419.
2. Hubsan H122D X4 Storm 720P Camera Drone - Only $129.99 (code: HBD16)       
If you've ever thought about what would make your racing in the sky experience seamless and memorable, Hubsan H122D X4 Storm 720P Camera Drone holds the key to your dream. It's a blend of an FPV quadcopter and a racing drone and its build quality comprise of carbon frame to ensure it can endure severe crashes. Combine that with a 720P camera and you have a well-tuned drone that will as well let you capture fantastic videos and photos. Preorder  it now
3. Hubsan H216A X4 DESIRE Pro Camera RC Drone - Only $109.99 (code: HBA20)    
Hubsan H216A X4 DESIRE Pro's prime goal is to make sure your flight experience doesn't get any less than excellent. From the high definition videos and stunning photos its 1920 X1080 camera generates its intelligent altitude hold function that ensures it hovers stably at specific heights, this drone gives you legit reasons to try it out. But that's not all. Make your Preorder now and you'll find out the rest of the fantastic things this bird can do.
4. GoolRC T47 720P HD Camera Quadcopter- Only $38.99 (code: T47J11)
When it comes to affordable and cool foldable quadcopters, GoolRC T47 easily takes the crown. It makes you forget about storage or travel issues presented by a usual drone. Its 720p camera ensures you seize those great moments in your life in a special way. Also, it has a headless mode that lets you fly the drone without caring about the direction. There's plenty of other cool features packed into this drone. All you need is $38.99 to lay your hands on it and save $10 in the process.
5. GoolRC Binge 1 Camera RC Quadcopter - Only $145.99 (code: GRCB30)
GoolRC Binge 1 RC Quadcopter's main goal is to let you explore the beauty of the world like you've never done before. This has been made possible through its independent 1080P HD external camera, outdoor GPS positioning, Return-to-home key, headless mode, an FPV live feed on your phone and so much more. At this time, this fantastic drone is down from $299 to only $145. Make your order now.
6. JJR/C H43WH CRAB 720P HD Camera Quadcopter- Only $39.99 (code: H43JJ6)
JJR/C H43WH CRAB impresses on all fronts: Its 720P HD Camera lets you capture moments in high definition, you can control with it with your smartphone and get footages in real time, it's foldable and has a compact design that makes it lightweight and portable, it boasts of innovative proper guards, headless mode, and so much more. For now, you get this piece of masterpiece for only $39 and save $20.
7. GoolRC T37 Mini 720P HD Camera Quadcopter - Only $44.99 (code: EJ8808)       
Those familiar with the T37 can admit to its impeccable flight performance and ability to shoot striking photos and videos. Well, it got an upgrade, the GoolRC T37 mini, and even though it's small, its performance doesn't disappoint. It features a powerful 720p HD camera, exactly what you need for superb aerial shots and footages, a G-sensor for simplified control of the drone, a compact design (it's foldable), APP control, altitude hold function, headless mode, and a lot more. Rather than fork out $69, now you have a chance to only part with $44.99 to own this feature-rich bird.
8. JJRC H47 720P Camera Drone - Only $47.2 (code: JJH9)
JJRC H47's objective is to leave you with a flying experience you will live to relish. Its aerial photography beauty mode plus the 720P camera will assist you to obtain unmatched magnificent shots. It also allows you to shoot stunning selfies and has an inbuilt barometer complete with altitude hold function for stability purposes. Other cool features include the G-sensor, headless mode, and fashionable handbag. Its regular price of $79.99 is now down to $47.99 but only for this season. Order yours now.
9. Linxtech IN1601 2.4G 720P RC Drone - Only $32.99 (code: EJ91711)           
When it comes to superior indoor selfie drones, the LInxtech IN1601 ranks among the best. It packs a 720P camera drone with adjustable lens for terrific shots. Also, it supports real-time transmission. Operating it is easy and design-wise, it's light, portable, and foldable.  Its frame is tough enough to withstand moderate impact and generally, it's the type of drone you wouldn't mind to own for only $32 this festive season.
10. S9W 2.4G 4CH 0.3MP Camera Mini Drone- Only $27.99 (code: EJ8671)
One striking thing about the S9W is its vivid design. If you love beautifully designed drones, this one is an exact match for your taste. In addition to that, the drone boasts of a reliable flight experience enabled by its built-n barometer, altitude hold function, among other things. Presence of a 0.3M camera combined with 3D flips for agility will let you enjoy a stunt aerial view. There's a lot more about this good-looking drone and for $27 only, you have a chance to find out.
11. For TKKJ TK116W 720P Camera Drone - Only $57.99 (code: EDM50)
TKKJ TK116W is a quality affordable drone that holds almost all the amazing features you would expect to find in a drone of its class. Setting it up is easy and its creators made sure that you have an easy time storing or travelling with it by giving it a compact design. It's key features include, the 730P camera for splendid images and videos, WiFi FPV real-time transmission, user-defined flight plan, one-key-return function, 3D flips, just to name but a few. For all these superb features, you would have paid $99.9 but now, the price is down to $57.99 only. Order yours now.
12. 19HW 2.0MP Wide Angle Camera Drone - Only $47.99 (code: EJ9188)      
19HW is another brilliantly-designed drone that comes complete with a set of quality features all at affordable price of only $47.99. Notable ones includes the 0.3MP camera, WiFi real-time transmission, built-in six-axis gyro functions for enhanced flight stability, one-key function, altitude height control, 3D flips, gravity sensing mode, and a compact design. Setting it up is easy and fast. Usually, you would have to part with $100 but with this current offer, you have no excuse.
13. Original DJI Phantom 4 Pro- $100 OFF (code: DJMP100)     
Phantom 4 Pro maximizes the brilliant and intelligent features its predecessor, Phantom 4, has. Its camera now features powerful 1-inch 20MP CMOS Sensor and it's equipped to shoot 4K at 60fps. Presence of dual compass modules plus dual IMU units enable it to maintain a stable flight. Other cool features to expect include the DJI Go app, draw-feature, Three TapFly modes, and Return-to-home mode. Currently, the drone is priced at $1899, but with $100 off, you can now own this drone for $1799.
14. 4PCs R1408 3800KV Brushless Motors -$6 OFF (code: R1408)      
Planning to equip or customize your mini RC FPV racing drone with super powerful brushless motors? You've got your chance now. Sunnysky R1408 1408 3800KV are made out of top-grade aluminum and can support 2-4S LiPo batteries. On top of that, they have the capacity to rotate relatively fast with more power.  With $6 off, you don't have to fork out $52.99. Place your order now.
15. Z8W Drone- Only $35.99 (code: RCZ8W)
Z8W Drone is a combination of beauty and performance. Its unique design features a strong net cage that protects it from suffering damage in the event of a crash. Also packed into this bird is a 720P wide angel camera complete with WiFi FPV real-time transmission to enable you capture magnificent pictures and videos and see what your camera sees. Other features to expect include one-key return function, headless mode, attitude hold, and ability to create a user-defined flight plan. All these for only $35? Yes. Order yours now.  
15. JJR/C H45 BOGIE RC Drone (code: JRCH45)
JJR/C H45 has the looks and the design you will ever wish for in a drone. It's foldable to allow for easy storage and transportation and lets you capture stunning footages and shots from the sky through its 720P camera. To ensure you experience a stable flight, the creators equipped it with an altitude hold function. You can fly it with your mobile device and craft a flight route of your choice through its flight planning system. There's plenty to enjoy from this quad. All you have to do is place your order now.
That's all for now.
Keep in mind this is a one-time chance to own a quality quadcopter for less. Don't hesitate. Place your orders now.