Top DJI Black Friday Deals To Grab
Image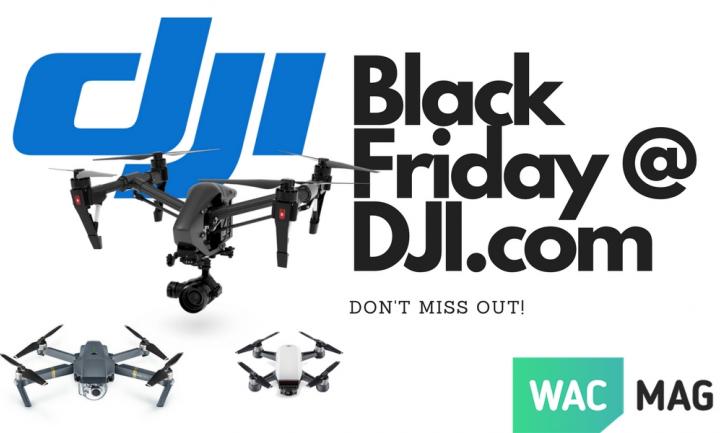 Thanksgiving is here with us, again, and that means a lot of things: family reunions, time to show love, care & gratitude to our loved ones, sharing with others, you name it.
Around this time, incredible deals are also thrown at us. Let's face it, don't we all just relish Black Fridays? Here's the thing. If you swore to never end this year without laying your hand on the incredible DJI products, from drones to gimbals, or you are simply here to know what this is all about, there's plenty of good deals you will not want to miss.
Forget about queuing up for hours or getting trampled over a $50 tiny drone at your local store. All you need is to head over to the DJI online store and place your order right away when the sale begins on the 22 November 17:00 hrs (PST). That's all.
So let's see what's good this time around. 
Drones
If your wish list comprises, DJI Spark Mini Drone, DJI Mavic Pro Foldable Drone, or DJI Phantom 4 Pro & Advanced Drones, your chance of making big savings is here.
DJI Spark Mini Drone - $100 OFF
DJI Mavic Pro - $100 OFF
DJI Phantom 4 Pro & Advanced - $169 OFF
Known to be popular options for cinematographers and professional photographers, these two now retail at an incredibly lower Price. With $169 off each, the former now retails at
$1499
while the later goes for
$1199
. 
Gimbals - $100 OFF
DJI Goggles - $50 OFF
To make your drone flying experience better than it is, FPV glasses are an option you will want to consider. DJI Goggle's HD screens give a surreal birds-eye view while you fly your drone and can work perfectly with Spark, Mavic Pro or any of the Phantom 4 Series drone. Get one for yourself at a discounted price of
$399 and save $50
.
DJI Care Refresh - 12% OFF
Honestly, no one is happy to imagine that they may lose their drone, may be due to an accident or a fault or just anything that could render it dysfunctional. Yet this is an uncomfortable thought we have to keep in mind. 
The good things is,
DJI Care Refresh
can give you the much-needed peace of mind. If you get one, you and your drone will be covered for two years from such things. So go ahead and get a coupon and enjoy a 12% off for Mavic Pro, Spark, and the Phantom 4 series drones. 
Summary On Deals and Gifts
Currently, there's a 3-day Presale Giveaway, running from Nov 19 5:00 am (PST) to Nov 22 4:59 am (PST). 
Over this time, there's a chance to win yourself a Fitbit Charge, Bose SoundLink Revolve, and BeatsX Wireless In-Ear Headphones and also get coupons for the 12% off DJI Care Refresh - Nov 19 (Spark), Nov 20 (Phantom 4 series), Nov 21 (Mavic Pro).
From Nov 22 9:00 pm (PST) to Nov 27 11:59 pm (PST), you will have the opportunity to use your coupons, save up to $150, and also get yourself free accessories. And come 27th, if you'll be lucky to be among the first 50 people to place to order, you might just win yourself up to $100 DJI Credit applicable to a wide range of DJI products. 
With Less than 48 Hours until the DJI Black Friday Sale begins, start preparing to make your orders now