Top Websites To Make Money And Sell Graphic Design Online
Image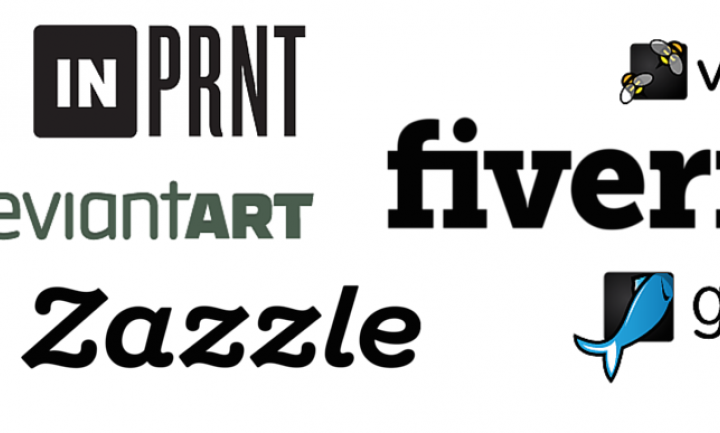 If you are an artist who wants to promote their artwork and get noticed by the public, then there are a lot of different websites that can help you get noticed. Unlike before when you had to spend a lot of time and money on trying to create a website store from scratch, there are online websites readily available for uploading your work and showcasing it.
Whether it is posters, t-shirts, mugs or plain artwork you want to sell, you don't need to find a gallery or a middleman anymore. No more need to share hefty commission with third parties!
Just sign up on any one (or multiple) of the following websites and become your own boss!
Videohive, Graphicriver & Themeforest
screen_shot_2016-10-11_at_4.55.26_pm.png
VideoHive, Graphicriver and Themeforest are all part of the many websites owned by Envato Market and independent designers can use it to sell their designs to a wide audience of customers in many different forms. You can sell royalty-free footage, motion graphics and even After Effects Project files for a good amount of money and also earn a lot of exposure due to Envato Market's large community.
Fiverr
screen_shot_2016-10-11_at_5.02.45_pm.png
Fiverr is a great community of artists and designers that are readily available to do any kind of artwork or design that is required by you. Each work is charged starting at $5 per piece or project, depending on what you and the artist decide.
The website offers a host of different artists from all over the world and the work done can be according to your guidelines and requirements if needed.
DeviantArt
screen_shot_2016-10-11_at_5.08.46_pm.png
Started in August 2000, DeviantArt is one of the biggest online social platforms for budding artists as well as established designers to display, endorse, and share their designs with the world. With over 32 million registered users and 65 million visitors each month, the website offers around 160,000 original art works per day.
DeviantArt provides a wide-ranging and compassionate community that helps artists and designers in finding their identity. They also have tools and supplies to enable their member to become leading artists and inspire creativity.
BigCartel
screen_shot_2016-10-11_at_5.13.45_pm.png
Started in 2004, Bigcartel is a popular platform that allows people to showcase their designs and artwork by building their own store and promoting their work. You can even customize your store to match your present website.
Bigcartel not only gives you a place to sell your design work online, but also gives you multiple professional tools that are needed to handle market research (e.g. tracking and social networking). You also have complete freedom on how you want to promote and sell your designs. Their price plan starts from free to $29.99 a month varying according to the facilities you use and how many products you are selling.
Zazzle
screen_shot_2016-10-11_at_5.15.59_pm.png
Zazzle is an online marketplace that helps independent designers showcase their artwork on a variety of different products and helps endorse their work. You can choose from mugs, t-shirts, posters, calendars, skateboards, tote bags, stamps, hats, business cards and many other such products to print your artwork on.
The website also gives you complete control over how you wish to sell the items. You can use it for free and the easy interface is very adaptable, also providing you with necessary tools to start selling better.
Redbubble
screen_shot_2016-10-11_at_5.23.15_pm.png
Redbubble lets you select your own commission rate on all kinds of different product types and helps in getting rid of any unreliable percentage cuts from popping up. The website is free to start on and send your money to you on a monthly basis.
They also help you in bettering your creativity and finding more talent by holding a lot of host challenges among the various groups of artists who use the website.
INPRNT
screen_shot_2016-10-11_at_5.28.02_pm.png
INPRNT uses a three-part submission process for designers to join their community and is a moderated gallery. First, the applicant must sign up on the website and submit 3 of their best pieces of art. These submissions are reviewed by members who are already on the website and they vote based on which artwork they like best.
If the artwork is selected and the submission is accepted, the member's account is then turned into an artist account where they can upload any of their designs and make it available fore sale instantly.
This Is A Limited Edition
Founded in 2007 as ClickforArt.com Ltd, the website dealt in limited edition art prints and fine art canvases from various talented 'new art' artists. Now, changed to This Is A Limited Edition, the website offers that and much more.
They also manufacture, wholesale and retail a complete range of products that have been specifically selected and made of great quality. From home merchandises, furniture and ceramics to clothing and much more, they work with many internationally celebrated artists and are strict to choose their art prints.
99designs
screen_shot_2016-10-11_at_5.30.41_pm.png
99designs is one of the biggest graphic design marketplaces on the internet and has dedicated to uniting passionate designers with clients who require superior and reasonable design services since the past 7 years.
Launched in 2008, the website is now comprised of over 950,000 artists and designers. The website aims to keep on finding many new ways to help artists meet prospective customers and help shape every designer's career and bring forward their vision of success.
Merch by Amazon
Merch by Amazon
Merch by Amazon provides an easy and simple place for artists to create, endorse and sell their merchandise with original artwork on it, and that too at no risk and no up-front costs.
At the moment, it is invitation only, but if you do get accepted, all you have to do is supply the artwork, pick the t-shirt and its colors, and then simply promote your merch on other social platforms! Everything else is taken care of by Amazon, and that includes production, sales, shipping, as well as making a product page on Amazon.com – all for free.