Unmasking the Newly Released Wondershare Video Converter Ultimate 10.0.0
Image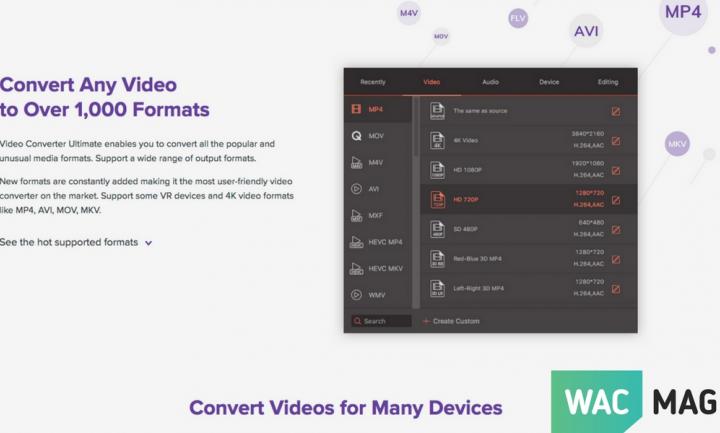 Many of us can admit that it's easy to be overwhelmed by the many video conversion tools available online today. But one thing that is for sure is that we all want a video converter software that is simple, easy to use, and reliable.
Are they available? Definitely Yes. Is Wondershare Video Converter Ultimate 10.0.0 one of them? That's what we are here to found out.
At the same time, there are plenty of video converts that never live up to their promises. If you have been victim to one of them, this is your best chance to learn about this newly released version of Wondershare Video converter.
Functionality
Not so much can be expected from a basic video converter beyond its intended purpose of converting videos. Wondershare video converter isn't one of them. And here's why.
First, it' multi-functional, meaning it does much more than just converting videos from one format to another. Put simply, it's more like a video toolbox where you can have access to a number of tools for use in different video-related functions.
Whether it's editing, downloading videos, syncing to multiple devices, burning DVDs/Blu-ray, you name, the tool does it all.
Secondly, it's more professional than its previous versions and fellow competitors. You can enjoy more of this when you go for the paid version. Nonetheless, the free version still offers a lot to the user, including powerful video editing, YouTube video download, and super-fast conversion speeds.
Download Wondershare Video Converter Here
User interface
The user interface in the newly released version looks more neat, organized, and professional. All the important menus are just a click away and with the way every function unfolds, your attention to its functionalities will be unwavering. Its design also complements the sleek looks of newly released operating systems such as Windows 10.
Two things that really stand out in the new version of the Wondershare Video Converter are its ability to offer diverse functions and the fact that it's professional. Given that you obviously want proof of these two, I'll let you in on it.
Professional
If you are professional, say, a videographer, filmmaker, or YouTuber, there are plenty of functionalities the Wondershare Video Converter Ultimate 10.0.0 offers that could be really helpful to your video making process. Take a look.
Convert to over 1000 video formats
Yes, imagine that. That you can convert your video to any of the known and unknown thousands of video formats available out there. If you've been yearning to know how to convert ISO to MP4, you've found the right tool. Not forgetting to mention it converts to 4k video formats such as MKV, MP4, MOV, and AVI. Better still, regular updates are done to include the most recent video formats.
Videos for Different Devices
We all know that different devices use different video formats. Whether it's for your iPhone/iPad or Android devices, HD TV, Apple TV, XBOX, PSP, VR, or Insta360, this tool will avail the right format for each.
Output Quality And Speed
Wondershare video converter is powered by a lossless conversion technology to enable it to convert videos without losing their original quality. And thanks to the GPU acceleration, the conversion speed will remain fast regardless of the graphics. Overall, its conversion speed is approximately 30 times faster than what you are used to.
Extreme Multi-tasking
Apart from being able to convert your videos in bulk, the tool also let's you merge multiple videos into a single file/format.
Multiple Input Sources
You can feed your video or audio files into this tool by either adding the files, folder or from different media devices, including a camcorder, apple and android devices.
Multi-function
Apart from being able to convert your videos and audios into well over 1000 formats, here's a list of other things you can do with this tool.
Download/record
You can download videos from online sources such as YouTube. All you have to do is paste the source link into the URL field and click download. A recording option is available as well, but it's limited to only 1-minute for the free version.
Burn DVDs
The tool lets you can burn any data from your local drive, ISO or IFO files to your DVDs in a professional manner.
Video Editing
Included with this video converter is a set of video editing tools that can let you trim, crop, put watermarks, add subtitles, adjust volume, add effects, amongst many other functions. All these options can be accessed beneath the video icon.
File Transfers
If you have different devices and you would want to transfer files from one device to another, all your functions can easily be managed from the video converter's platform.
Additional utilities
For improved productivity, the converter has additional utilities each with a dedicated function. They include:
Cast to TV- cast videos straight from your PC/MAC to a Smart TV by using WIFI.

Fix video metadata – Important in searching for video meta descriptions

VR converter – Make your videos VR compatible

Screen recorder – Record what's on your screen and in good quality.

GIF maker – For creating GIFs from videos and images.
Verdict
Well, the results are out. Clearly, Wondershare Video Converter Ultimate 10.0.0 looks like the dream video converter tool. Faster conversion speeds, converts to over 1000 formats, performs multiple functions, retains original video quality, you name it. What else could one ask for?