Xiaomi Mi 4K Action Camera Review
Image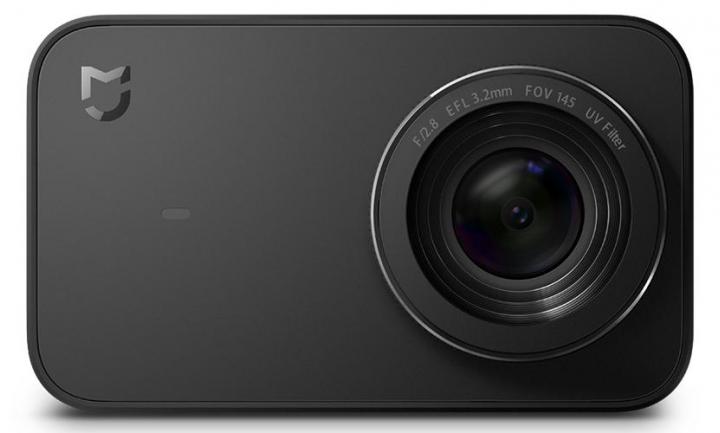 Specs
Max Video Resolution
4K 30 fps
1080P 240/120/60/30 fps
720P 240/120/60/30 fps
Body Size
2.81 × 1.68 × 1.16 inches
Available On
At best, Xiaomi Mi 4k is a simple to use action camera with professional features. Let's start by saying that you get a pretty good set of specifications for the price it is selling. Keep in mind the features and performance is not spectacular by any means; however, one must take into consideration that this model is a significant improvement in quality compared to the previous ones. 
Depending on what activities you plan to record, Xiaomi Mi 4K can be either a complete hit or a terrible miss. Let's have a look at the good, the bad, and the ugly in more detail.
Xiaomi Mi 4k - What's in the box?
The camera comes in a clean, elegant, and compact white box, somewhat reminiscent of the iPhone ones. And just as when buying an iPhone - you don't get that many goodies… Within the box are the only accessories you get: a micro USB 2 cable, a battery, and a user manual. No lens cap, no protective case for the camera, no micro-SD memory card. Yikes!

Xiaomi Mi 4k Action Camera - What is in the box
Picking up the camera reveals a sturdy build. The metal frame protects the outside, while the plastic front leaves an elegant impression. Unfortunately, the camera is not waterproof, so if you are looking for a Chinese GoPro alternative for aquatic activities, Xiaomi Mi 4k is not the product for you.
The built-in 2.4" LCD touch-screen, which has 960x480 resolution, constructed from Gorilla Glass Retina resists scratches from daily use, and the screen is not fully laminated. Keeping the display protected is key since all the controls (apart from turning the device on and off) are done through the interface there.
Let's talk about performance.
Technical Features of Xiaomi Mi 4k Camera
Weighing about 100 grams, Xiaomi Mi 4k is a lightweight and easy to carry action camera with a compact design which can fit in almost any backpack pocket. It only comes in black color which is not the end of the world. The camera really shines when it comes to capturing high-clarity videos and it manages to do so thanks to the Ambarella A12S75 chip and Sony IMX317 sensor. 
The device offers 4k video recording at 30 frames-per-second and allows you to express your creativity in four shooting modes: time-lapse, slow-motion, exposure delay, high-speed burst. The video output formats beside the 4k are 1080p at 100 frames-per-second, and 720p at 200 frames-per-second. 
The camera allows you to play with a bunch of settings. You can tweak exposure, ISO (Auto, 400, 1600, 6400), control white-balance, metering mode, an option to mute the mic, stamp on/off option, lens distortion, and EIS. This is where things get a bit messy.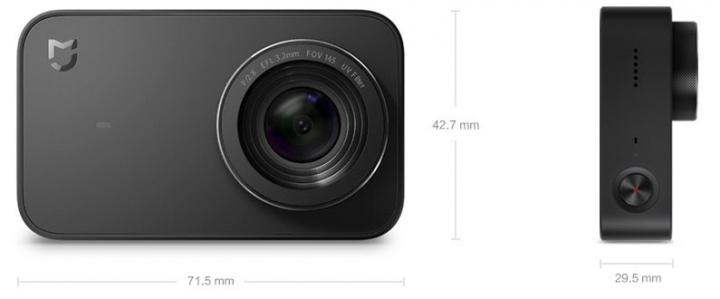 There are no sharpness or contrast adjustments, and you cannot control lens distortion when recording in 4k. The camera advertises having the 6-axis electronic image stabilization (EIS) with GYRO; however, the gyro only works in 1080p, so you can expect shakiness when recording in 4k or 720p. This really becomes a problem when shooting in 145° wide-angle vision.
Xiaomi Mi 4k struggles at low-light performance due to the f/2.8 aperture of UV protected, 7-peace, extension tube type lenses with IR filter. With the wide-angle lens, you will have a bit of a fisheye effect, even when making 3840×2160 high-resolution photos.
Powered by a 1450mAh lithium-ion battery, the camera provides up to 2 hours of 4k video recording, and it goes up if you shoot in lower resolutions. Another cool thing is that it has a built-in cooling system that prevents Xiaomi Mi 4k from overheating.
The camera has built-in high-speed Wi-Fi and 4.1 Bluetooth, which makes bypassing the use of the touch-screen much easier. This is done via Mi Home App, which you can download and connect with your Xiaomi Mi 4K action camera. The application has all the settings the camera has, which is convenient if you damage the display, or if you need to remotely record, take photos, or tweak the settings. One thing to note is that there is a 1-second delay between your phone's screen and what's shown on the camera's display, which is to be expected since the image is being transmitted by wi-fi.
Overall, Xiaomi Mi 4k is a good investment of $100 if you are just looking for an entry-level device to make cool amateur action videos. For anything more than that, WAC magazine suggests looking at other Chinese GoPro alternatives.