Image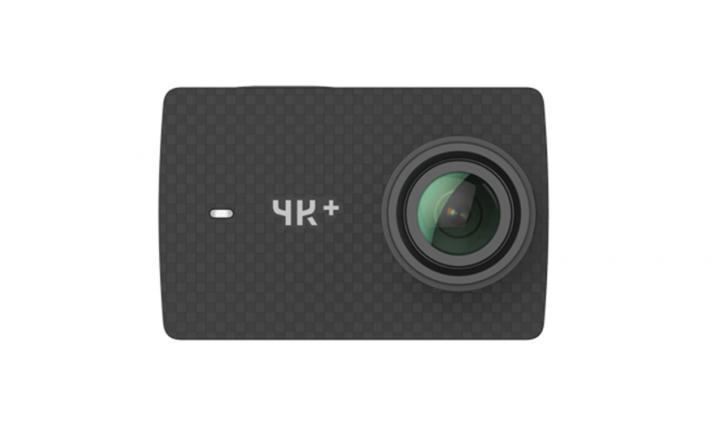 Specs
Max Video Resolution
4K 60/30 fps
2K 60/30 fps
1080P 120/60/30 fps
720P 240/120/60/30 fps
480P 240/120/60/30 fps
Available On
The Yi 4K+ Action Camera is Xiaomi backed Yi Technology's third action camera, which was debuted at CES 2017. It gives direct competition to the recently launched GoPro Hero 5 Black Action Camera, because the Yi 4K+ is the first action camera that has the ability to record videos in 4K at 60fps.
Other leading action cameras like GoPro Hero 5 Black and Sony FDR-X3000R that are capable of recording in 4K can only reach 30 fps. This is also an upgrade on the last Yi 4K action camera that could only record in 4K at 30fps.
The Yi 4K+ Action Camera features a small and compact size, measuring 65 x 30 x 42mm and weighing 96.3 gram (with battery). It is powered using a Quad-core ARM Cortex-A53 64-bit CPU and Ambarella H2 SoC processor with 2GB of RAM that has a max bitrate of 135Mbps. This chipset helps in consuming lower power while providing 4K Ultra HD videos.
The camera is equipped with Electronic Image Stabilization (EIS) for smooth picture and video quality due to the built-in 3 axis gyroscope and 3 axis accelerometer, with cross-border compensation. It comes with 7 layers of glass lens with 155-degree FOV and f/2.8 aperture. It uses Sony IMX377 12MP CMOS image sensor with Exmor R, and features such as Auto Low Light and Lens Distortion Correction provide better quality footage.
Apart from 4K at 60fps, the camera can record videos in 2.7K at 60fps, 1440p at 60fps, 1080p at 120fps, 960p at 120fps, 720p at 240fps and 480p at 240fps. Users can also take time-lapse videos in 4K (16:9) or 2.7K(4:3) at 30\25 fps with set intervals of 0.5, 1, 2, 5, 10, 30, 60 seconds.
Record in slow motion with 720p resolution in 60,120,240 fps at rates of 2,4,8. The Yi 4K+ action camera has an option to record a loop video that overwrites itself until the shutter button is pressed to stop it and save. The video lengths can be 5 min, 20 min, 60 min, 120 min. you can also record videos and take time-lapse pictures at the same time.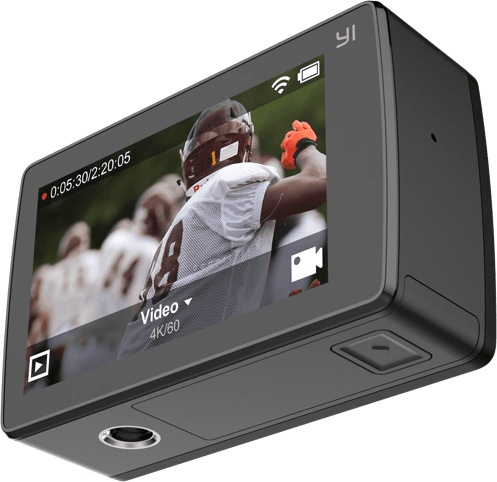 The camera comes equipped with a 2.19-inch touchscreen with 640×360 screen resolution at 330ppi. This allows you to view what is being recorded and frame shots, while also review what has been captured previously. It also supports voice control commands for hands free operation.
It has USB 3.0, Type-C support, can record in RAW format, and also comes with live streaming and VR support. The camera supports 802.11 a/b/g/n/ac Wi-Fi and has built-in Bluetooth 4.0. With its case on, the camera is waterproof up to 40 meters under water.
It uses a high-density lithium polymer battery that is 3.8V, and 1400mAH capacity. It can provide recording time of up to 71 minutes when using 4K at 60fps.