Yuneec Typhoon Q500 4K Quadcopter
Image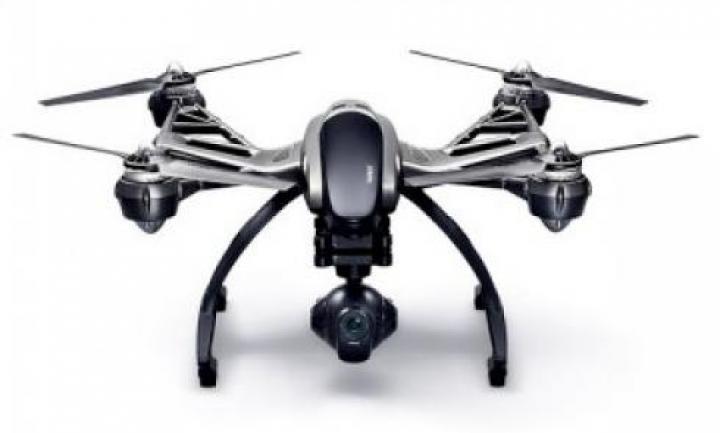 Accessories In Box

CGO3-GB,
ST10+ Ground Station for Q500/Q500+ Quadcopter,
2 x 5400mAh 3S LiPo Flight Battery for Q500 Quadcopter,
Balancing Connector Lead,
SC 3500-3 DC LiPo Balancing Charger,
AC Adapter for Charger,
Car Adapter for Charger,
USB Interface / Programmer for Q500 Quadcopter,
8GB microSD Card with SD Adapter,
Motor Holder / Prop Installation Tool,
4 x CW and CCW Propeller Pairs,
CGO Steady Grip for CGO2-GB Camera / Gimbal,
Aluminum Hardshell Carrying Case for Q500 / Q500+ (No Foam),
Limited 6-Month Warranty
The Yuneec Typhoon Q500 4K is a ready-to-fly (RTF) drone that comes factory-assembled along with a transmitter or radio controller included. It's a lot more than just a flying machine, and is made for advanced aerial photography and videography with its integrated CGO3-GB camera and gimbal.  
The drone comes with two 5400mAh batteries, which can provide up to 25 minutes of flying time each, on a complete charge. The drone also comes with an aluminum case that can safely store it and makes transportation easy.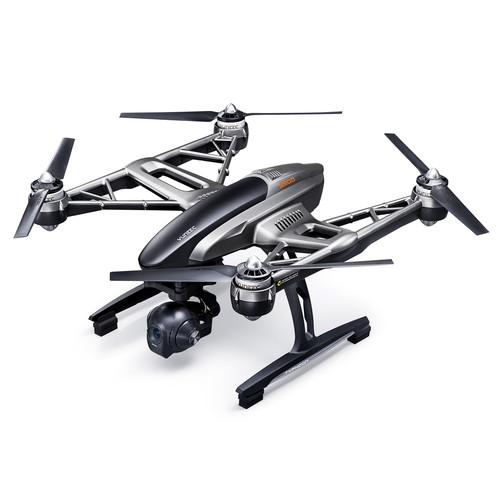 Camera Specs
The drone's CGO3-GB system features a combination of a 12 MP, 4K camera along with a 3-axis brushless gimbal built into a single unit. It has been specially designed to record videos and pictures that are stable and do not have shaky videos.
Apart from 4K, the camera can record videos in 1080p at 120 fps and a built-in microphone allows audio recording that can be turned on or off using the controller or mobile app. Pictures are stored as JPEG or DNG RAW and it is also possible to take pictures while recording a video, for added convenience.
The camera has a wide-angle 130-degree FOV lens and the gimbal comes with a control angle accuracy of ±0.02°. Videos and pictures are stored on a Micro SD card that is up to 128GB in size. Users also have the option of saving low quality and upload-friendly versions of their media on their smartphones.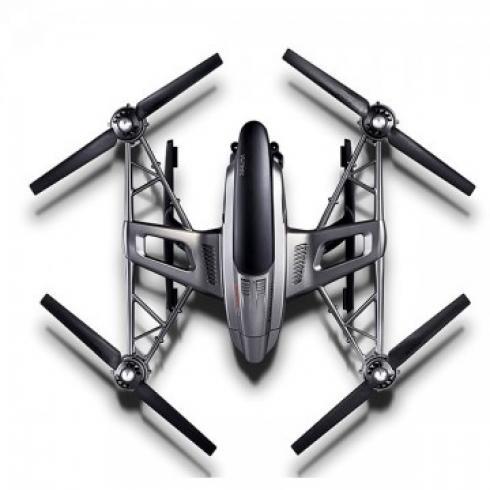 Transmitter and remote controller
The 10-channel ST10+ is a combination of a transmitter as well as a ground station system. It uses a 2.4 GHz transmitter as a joystick to maneuver and fly the Q500 4K, and a 5.8 GHz Wi-Fi downlink to show video feed and telemetry data from the camera.
This controller is an upgrade from the previous ST10 and now includes a brighter touchscreen that is 5.5 inches. The screen allows fliers to control he camera setting and adjustments, and watch live feed from the camera.
Users can also pair with their smartphone or tablets if they wish to, using the app available on Google Play and iTunes app stores. The device can be mounted onto the transmitter using a holder. Settings such as resolution, ISO, white balance and shutter speed. Can be changed either on the phone or the remote controller.
Flying Features
The flight computer for Q500 4K Typhoon will give its users access to FAA no-fly zones like airports. The maximum flight altitude can also be adjusted to stay below 400' AGL for compliance with the rules.
It offers various special flight modes that make flying easier for the users:
Smart Mode
The smart mode is great for fliers who are just starting out and will make it easier for them to control the quadcopter. This mode makes use of GPS to create a 26' 'Safe Circle around the flier and helps in maintaining stick relativity, which means that irrespective of where the drone's nose is pointing, it will only move in the directing the stick is moving.
There is also a 'virtual barrier' that makes a radius of 300' around the flier to always have a visual of the quadcopter and not let it get out of sight while practicing.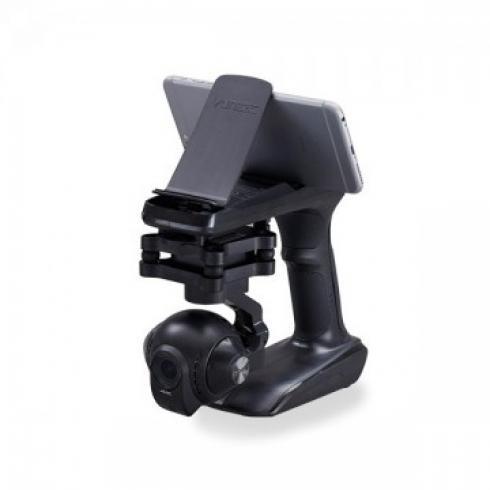 Angle Mode
The Angle Model has ben made for experienced pilots who ate using this Q500 4K drone for aerial photography. It helps in giving more control to the flier, and provides sharper bank and pitch angles, helping you get a greater diversity of shots and angles.
Home Mode
The Home Mode is a much needed safety feature that can be activated at any time by flipping a switch on the ST10+. It makes the drone automatically return back 'home' and land around a 10' radius of where it started flying from.
If for some reason the transmitter loses its signal, this feature will make it fly back to its 'home' location till it lands or the signal is reestablished. But users need to note that the GPS needs to be properly calibrated for this feature to work correctly.
Includes CGO3 SteadyGrip
The Yuneec Typhoon Q500 4K quadcopter comes along with a CGO3 SteadyGrip, which helps in transforming the CGO3-GB camera and gimbal into a handheld, steadied mini-rig. It has a smartphone holder for devices that have a screen size of up to 6.4 inches, to monitor the live feed and adjust camera settings.
The gimbal can be easily added to the SteadyGrip using its rail attachments for a quick setup. It uses 6 AA batteries that are located at the base, and the device also has a pitch control roller at the top of the handgrip that lets users manually adjust the camera's tilt while recording and taking pictures.