Best Waterproof Drones and Quadcopters On Market
Image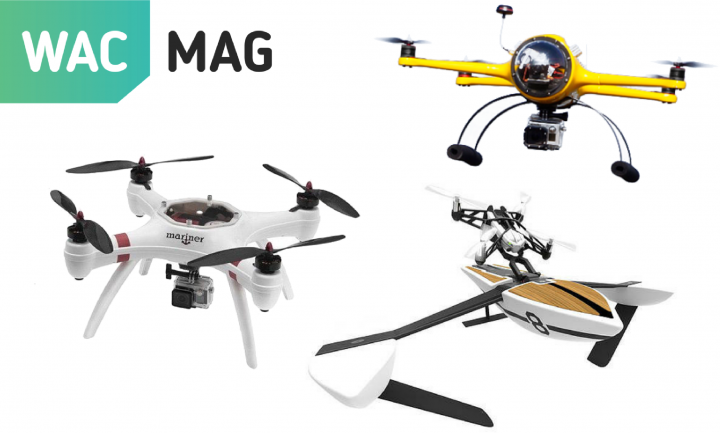 In the last few years since flying quadcopters has becomes a hobby for a lot of enthusiasts, the quadcopter and drone market has achieved many astonishing advancements in creating these aerial machines and adding important features. Apart from just flying, drones can now record videos, take pictures and can even be used in industrial and business applications such as surveying large lands remotely, delivering things to not easily reachable places, and also inspection mechanical equipment.
FPV flying, aerial video capturing and photography have become very popular with people, but most fliers are always worried about flying their drone over water bodies or in places that it can get wet. For most drones and quadcopters in the market, water is a death sentence and can totally damage your drone. Though, having the ability to record videos or capture pictures of the fish, plants and other corals under as well as around water is an exciting notion, and if made possible with ease, can be a great idea.
While some quads are water resistant, they aren't completely okay to be submerged into water either. This has led to making some drastic changes in the design of quadcopters recently so that they can become more versatile and can be used for a larger number of purposes.
Secondly, drones are very costly and it is not possible to ruin one and replace it, or even find specific parts to replace in case of any kind of damage,
Many of the recent high tech quadcopters and drones have been designed to be more rugged by making them waterproof or water resistant, so that fliers can enjoy the aerial machines with a lot less tension and a lot more fun! When you are flying in FPV and are over a water body there is a possibility of your quad losing power, but with this new technology you don't have to worry about water damage.
Not only technology wise, but even structure wise, these waterproof drones and quads in the market have been made with great quality materials that are robust and can withstand a rough terrain as well as water and other liquids.
Here is an updated list of some of the best waterproof drones and quadcopters available in the market. Some of these can be completely submerged underwater and can provide you with amazing recording of the life under water.
Keep checking this article for more waterproof drones!
Need something else? check out other articles in the series: