Best Drones with Follow Me Mode [UPDATED AUG19]
Image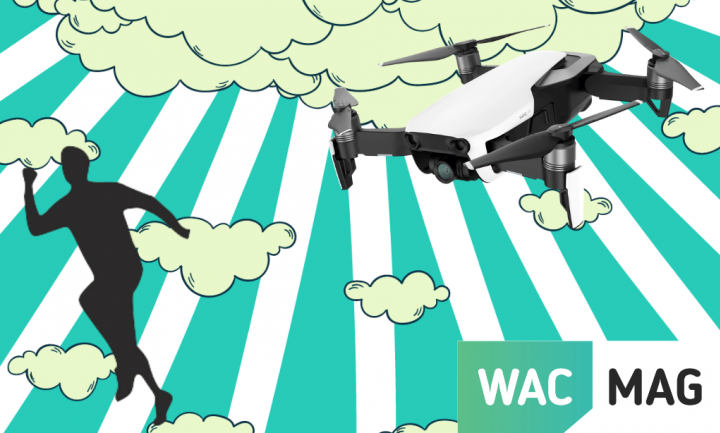 Drones have become highly sophisticated in recent years. They can be controlled remotely by individuals; however some types of activities require drones that can quickly track an individual or object. In recent years, drones have been equipped with a follow me mode that allows them to closely track a person or an object. This allows them to operate without a controller. The addition of a 'follow me mode' makes them perfect for recording intense sporting events such as skiing, motorcycling, and surfing. In this article, we will look at the best drones that have this "follow me" mode, and also provide details on the technology itself so that you can make the most informed purchasing decision. 
Jump to best follow me drone list
Buyers Guide
When purchasing a drone with follow me mode, there are a number of considerations to take into account. The most important factor to take into account is obstacle avoidance. A drone that has sophisticated obstacle avoidance technology will allow you to pursue more complex terrains and avoid damaging your drone in the process. The range of the follow-me distance is another factor to take into account. The height and distance range of the drone will have a bearing on whether your activity can be effectively captured by the drone.
Another factor to take is the technology used for following, some are better than others and some fit different activities better.
The purposes of a drone with follow me mode can vary. However, they are designed to be used for sports such as skiing and motorcycling. These intense sports can be effectively captured in real-time by a Drone that is equipped with follow me mode. The speeds on these drones allow them to keep up the pace demands. The follow-me mechanism is designed to closely track and keep up with the object or person.The technology works by closely tracking an object or individual. The target of the drone is closely tracked to ensure that the best live footage can be captured. Early drones had basic tracking technology, however the latest drones come equipped with far more precise tracking that is reliant upon complex algorithms. This technology ensure that tracking targets can be differentiated with ease. 
The follow-me technology has fast become one of the main selling points for these drones. However, it is not the same in each drone. There are two main types of follow me technology. The first involves GPS transmitter technology, which can follow any GPS enabled device such as a phone. The drone closely follows this transmitter at all times. The other type of technology used is recognition technology. This is a more innovative form of tracking that uses vision sensors and software algorithms to closely follow a moving person or object. No other physical trackers are required. 
The DJI Mavic Air provides the best value for money. It is a fantastic choice for those who need professional quality at an affordable price. The compact size makes it great for traveling, and the high-quality shooting means it is perfect for a variety of activities. The medium distance covered is plenty for the majority of activities. It comes equipped with forward, backward, and downward obstacle avoidance. The advanced pilot assistance system (APAS) ensures that the drone can navigate a safe and smooth flight path. 
Standout Features 
Smooth 4K 30FPS Video

1080p with a 120 fps slow motion

Compact & Lightweight

68KM/H Top Speed

APAS obstacle avoidance

Intelligent Flight Modes

21 Minutes of Flight Time

8GB On-Board Storage
Our Recommendation 
We recommend this drone for anyone that is looking for something compact and reliable. The DJI Mavic Air packs an impressive punch when considering the price. The high-quality video combined with the solid 3 direction obstacle avoidance makes this an extremely good purchase for those looking to get the most value. For those that require that bit extra, we recommend going with the premium versions which we will list below. 
View On Amazon View on DJI.com [embed:render:price_and_links:node:2573]
For those that went the absolute best drone, we recommend the DJI Mavic Pro II with Zoom. This is a drone that comes equipped with all of the features and portability of the Mavic Air, alongside some noticeable standout upgrades. The optical zoom feature, combined with the crisp image quality make this the elite drone with follow me mode. Additionally, the object avoidance feature is highly impressive due to the close sensors which work very well. It has the ability to sense objects in 6 directions which is known as omnidirectional.
Standout Features
Compact and Lightweight
48 mm Telephoto Lens
Omnidirectional Object Avoidance Works Very Well
24-48mm Optical Zoom Lens
2x Digital Zoom
4K HDR Video
31 Minutes of Flight Time
8000m Control Range
Ultra-Reliable Transmission System
Recommendation
With 31 minutes of flight time, the DJI Mavic Pro II Zoom is ahead of all the competition. For anyone looking for the standout drone with follow me, this is a no-brainer. It is packed with top-level features that include crisp image quality, and a smooth, stable flight. If you want the best drone, then this is the one to get. 
The best drone with follow me for professional use is the DJI Inspire 2. It has an incredible build quality, and its reliable performance makes it perfect for professional use. The drone also has excellent 2 directional object avoidance and a range of automated flying modes that work very well. It does, however, also come with a professional price-tag. The features we list below show why the price-tag is well worth it for those seeking professional performance. 
Standout Features
Excellent Automated Flying Modes
Professional Build-Quality
Superior Object Avoidance
5.2K Video Shooting
CineCore2.1 Image Shooting
Excellent Responsiveness
25 Minutes of Flight Time 
Recommendation
All of these professional features justify the premium price tag. This is a drone that is perfect for professional use due to its exceptional build quality, and ultra-high reliability. You can count on this drone to go beyond expectations for all professional requirements. The forward and upward obstacle avoidance works very well. The long battery life, sharp imagery, and excellent object avoidance system make this a top class professional drone.
For those on a budget, we recommend the Hubsan Zino. This is a drone that combines affordability with a range of top-level features. It has an excellent 12MP camera that is well equipped at capturing all types of footage. It has a smooth flight with an incredible 2,500 meters of distance. Overall, it is a portable and easy to use a drone that is excellent as a budget choice if you do not require obstacle avoidance.
Standout Features
12MP Camera with Smooth Footage
Wide-angle lens F2.2
4K Video
Stable Flight
Durable
2,500 Meters of Flight Distance
Foldable and Compact
Easy to Use for Novices
Highly Affordable Price Tag
Recommendation
We highly recommend this drone for those that are on a budget. When looking at the features on offer, this is a drone that gets the basics done right. It is designed to be usable for a number of conditions. The smooth camera quality and excellent flight range make this a top pick for those seeking a drone with follow me on a budget. 
Another top pick for those on a budget is the DJI Spark. This mini-drone packs a real punch. The first thing to note about this drone is the tiny size. It is smaller than most modern smartphones, which makes it incredibly easy to transport with ease. It comes with a solid build and a range of useful automatic flight modes. The 3D sensing system is adequate for light conditions, which means you will need to plan the flight path. The sensors work well for close objects, however performance can be poorer in larger open areas.
Standout Features 
Tiny Build is Highly Portable
Very Easy to Use
Good Automatic Flight Modes
 F/2.6 Wide-Angle Lens
1080P Stabilized Video at 30fps
12MB Camera Provides Crisp Images
Full HD Video Recording
Solid Build
16 Minutes Flight-Time
Recommendation 
This mini-drone is great for those looking for a lightweight budget option. As long as you don't mind the short flight time and lack of wind resistance, then this is a drone that offers a lot in a small and affordable package. The front sensing obstacle avoidance is adequate for light conditions. This is one of the cheapest drones available on the market, and it is highly recommended for beginners looking for a reliable drone with all the essential features. 
The top drone for recording hands-free action sport is the Airdog 2. It has been purposefully built for this use. There is a range of convenient features such as a takeoff timer. Additionally, the high precision following means even the most intense action sports can be caught smoothly. If you are surfing, then it adapts to your environment and won't come near the water. However, it does not have obstacle avoidance.
Standout Features 
Easy to use Takeoff Timer
High Precision Following
Adapts Easily to Environment
Highly Compact and Portable
Easy to use Hands-Free Technology
Recommendation
We highly recommend this drone for recording free action sport, because it has been specifically designed to fulfill this purpose. Everything from the build to the features is fully optimized for recording hands-free action sport of all types. Tracking is done through the use of a waterproof leash. If you do not require obstacle avoidance, then this drone is a great pick. 
Walkera Vitus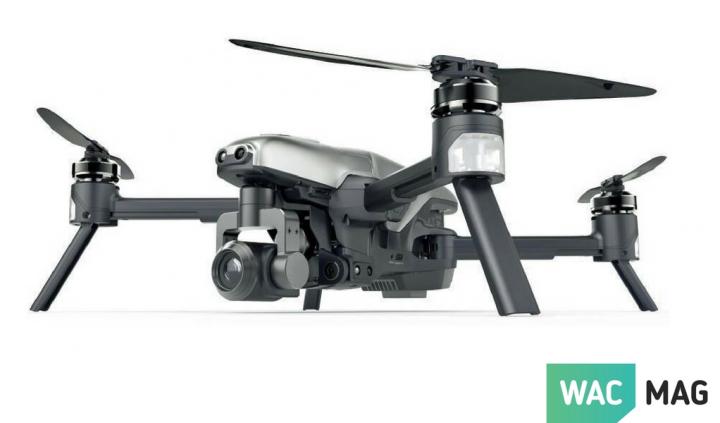 The Walkera Vitus is a fantastic all-round drone that provides excellent reliability. It has three directional obstacle avoidance, which makes it perfect for a number of flight paths. The drone also provides superior video recording and fully supports 4K. The compact design means that it is highly portable. 
Standout Features
Compact and Foldable Design
Stable 4K Video Recording
12MP Camera
Smooth Flight with Accurate Tracking (GPS + GLONASS)
1.5km Range
3 Directional Obstacle Avoidance
Recommendation
This is a fantastic drone for those looking for reliability. The compact design combined with the excellent recording and tracking features make this is a standout drone to consider. It is a solid offering that excels in terms of reliability. 
Yuneec Typhoon Q500 4K
Another drone that we highly recommend is the Yuneec Typhoon Q500 4K. This drone has an excellent 4K camera that can capture some amazing shots. It also has a smooth flight, and operate far more quietly than other similar models. Additionally, the battery life which provides a 25 minute flight makes it a top pick. However, this drone does not have obstacle avoidance. 
Standout Features 
Smooth Flight
Excellent 4K Recording at 30fps
12MP Camera with No-Distortion Lens
Quiet Operation
Ultra-Compact Build
Top Accessories Available
25 Minutes Flight Time
3 Flight Modes
Recommendation
We highly recommend this drone for those that need a reliable drone capable of shooting incredible video. This drone has good tracking features, and as a bonus, the quiet operation differentiates it from other drones within the same price bracket. The large size and lack of obstacle avoidance can be inconvenient for some; however, the ease of use alongside the top accessories make it a very viable drone for novices and pros alike. 
Closing Thoughts 
You will now have a much better understanding of the best drones with follow me mode. This will allow you to make a more informed purchasing decision. All of the drones on our list are incredibly reliable, and fit for a number of purposes. The revolutionary follow me technology makes these drones well equipped for a number of tasks. You should pick the drone which closely matches the type of activity that you intend to record.